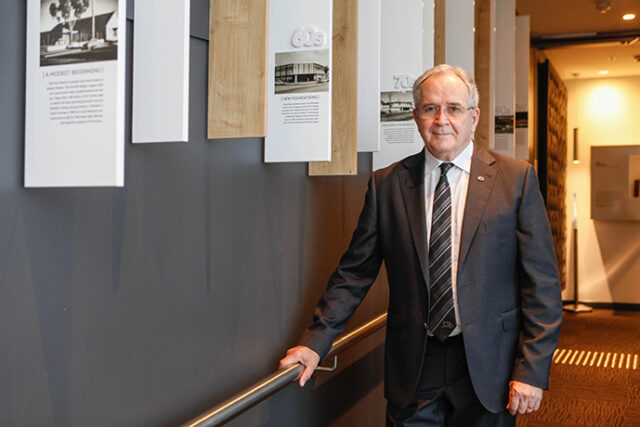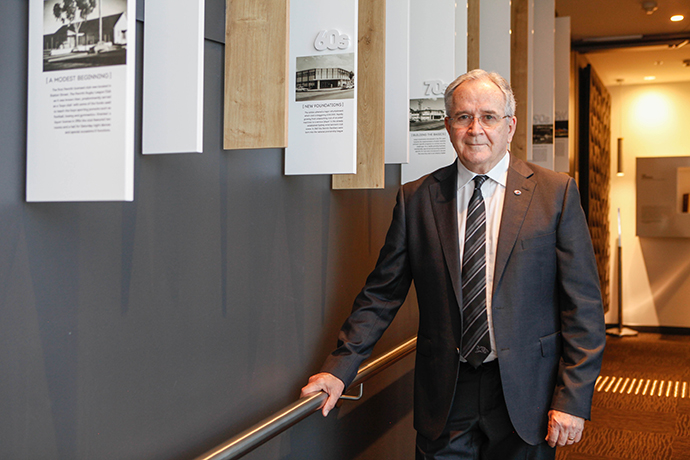 A year ago Peter Graham was in Nepean Hospital's ICU fighting for his life after a gall bladder infection escalated to major liver disease.
Now, he's fighting fit and has just been elected as the new Chairman of Panthers.
"I was in the ICU for 93 days. The second longest serving person to make it out alive," Mr Graham said.
"They took two thirds of my liver but there were all sorts of complications and issues after that.
"I've got a clean bill of health now."
It is that fight and tenacity that make Mr Graham the perfect choice as Chairman – a calm, collected figure who is process driven and solutions based, with Panthers well and truly in his blood.
"In April 1967 my wife Bez and I – were just teenagers – went to the first game the Panthers ever played here against Newtown," he said.
"We lost but two weeks later I think the Panther Pride was born because we beat the previous year's Premiers St George here – it was just amazing."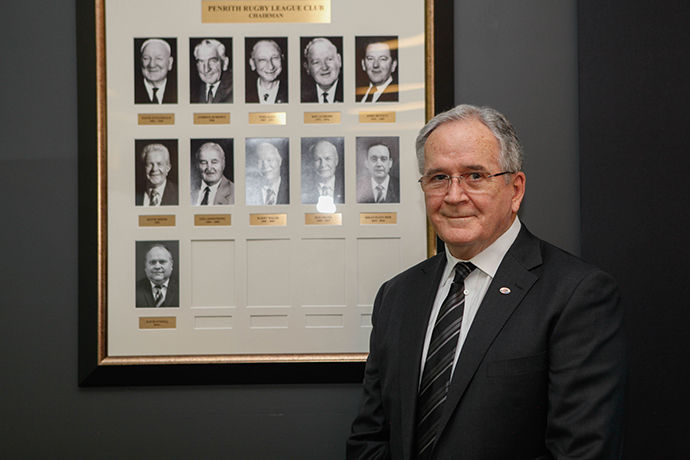 Mr Graham moved to Penrith when he was two-years-old and has never left.
"We decided this was the place for us. We raised our girls here and three of our four girls live in the Penrith area. All of our grandkids are all Panthers fans," he said.
Mr Graham doesn't want his tenure to be about enormous change or overhauling what's happening at Panthers. He's confident in the work done before him, particularly by his predecessor Dave O'Neill, who lost his spot on the Board at the club's election earlier this year.
"We stand on the shoulders of giants here at Panthers. The work that has been done by previous Chairmen, CEOs, Boards and the people that have worked here has just been outstanding," he said.
"It's put us in the position we're in at the moment. For me it's an absolute honour and a privilege.
"I have great respect for Dave O'Neill. He did some amazing work for us, not the least of which was bringing back Ivan Cleary. He has to be credited with that but he did so much more than that – we'll miss Dave, he is a fine local businessman."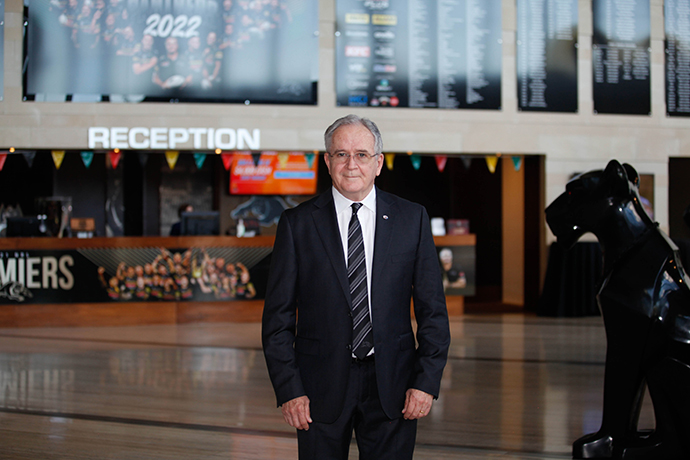 Mr Graham will be strongly focused on governance and ensuring major projects – such as the new community and conference centre being built at the front of the club – are delivered on time with little complication.
One thing you won't see is his name regularly in the media.
"As far as media is concerned, the view that I have is that the relationship with the media should be one that provides journalists with the best possible information, the best quality information, the best stories about Panthers. They should have access to the people who actually know so in my mind that's people like Ivan Cleary, (CEO) Matt Cameron and on the broader club side our Group CEO Brian Fletcher," he said.
"And particularly Greg Alexander who really knows his stuff when it comes to rugby league.
"So when you think about the role of the Chairman in all of that, I don't have a lot to say – because other people can say it better.
"The things I'm really interested in are governance, I want to make sure that as a club… we're run very effectively, and that we've got very clear strategies for the future. We know where we want to be in five and 10 years time so everyone is focused on working towards that.
"The way I operate is talking to people about things we're going to do and why – let's be clear about that – and how we know when that's done. So what does success look like? If you can answer those questions then the only remaining question is 'what do you need' and that's the approach I'll be taking."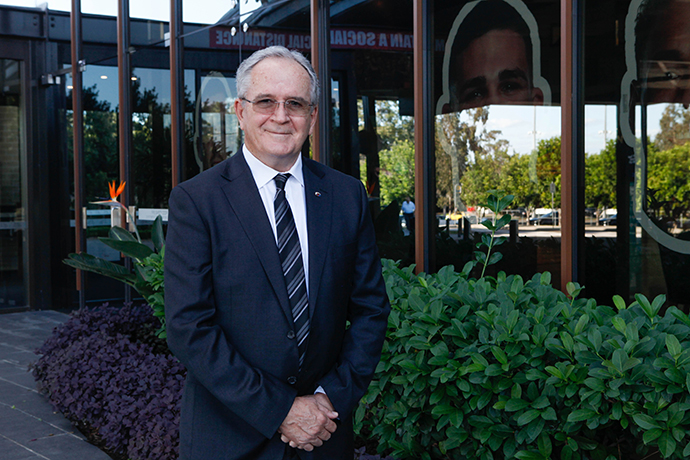 Mr Graham is also hopeful of seeing more women involved with the club at senior levels in the coming years.
"Involvement of women in the club is very important to me. We have five general managers and two of them are women, we have a number of women in leadership positions but I feel we can do better," he said.
"I'd encourage women to put their hand up for the Board. We will have vacancies – they come up – and Board-appointed directors for a period of time. My personal experience is that women bring a different dimension and perspective. 50 per cent of our members are women, they need to be properly represented."
He also confirmed Penrith's strong interest in fielding an NRLW team as the competition expands in coming seasons.
Mr Graham said the club's recent decision to appoint Matt Cameron as CEO of the rugby league club, while retaining Brian Fletcher as Group CEO, was all about identifying key roles and planning for the future.
"Matt's role as General Manager is fairly close to CEO but Brian was there as Group CEO," he said.
"We felt it was time we were clearer about the relationships there but Brian will continue as Group CEO and he sits in on the football Board meetings.
"Brian wants there to be a sensible transition over the next few years to what our next phase is going to be."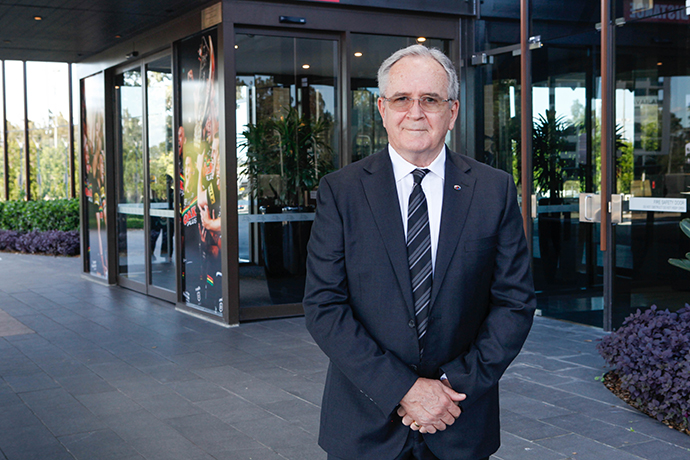 The redevelopment of Penrith Stadium is something Mr Graham will keep a keen eye on over the next few years.
"It's a really important issue for us and already the Board is working with some of our key people on the approach we're going to take," he said.
"We want to learn the lessons of the past. We want to learn the lessons from Parramatta, for instance.
"This needs to be designed and developed… and the move out of there and then back into there needs to be really important touch points for our relationship with the community.
"I'm a bit nostalgic about the past but I have to admit when we first sat at Penrith Park it was a dirty hill and that was about it."
Mr Graham said he's exceptionally confident that the Panthers will build on the success of the 2021 Premiership, after previous Grand Final successes have resulted in lean periods.
"Having people like Brian Fletcher as our group CEO gives me enormous confidence. Brian is very experienced and he's very good at bringing other people through," he said.
"So we've got succession plans in place and that's on the commercial side, which has sometimes been difficult at the past.
"On the football side, there's two things that stand out for me and that's the quality of Ivan Cleary and our coaches Cameron Ciraldo, Andrew Webster and Peter Wallace. What Ivan's done as far as building culture is concerned… his approach is that he wants the Panthers to be a source of pride for Penrith and then our other objective is to be a regular top four team."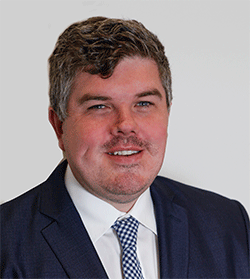 Troy Dodds is the Weekender's Managing Editor and Senior Writer. He has more than 20 years experience as a journalist, working with some of Australia's leading media organisations.