A Penrith patient experienced a true act of kindness while being treated by NSW Ambulance Paramedics recently.
Evelyne Collins was diagnosed with Leukaemia in October and is receiving palliative care at Hardi Aged Care.
The 85-year-old suffers from dementia and had to be transported to Blue Mountains Hospital in Katoomba for blood transfusions as part of her treatment.
While under the care of Judy Andrews and Mike Horan, the paramedics decided to stop at the Three Sisters as a surprise for Ms Collins.
"We were asked to take her to Blue Mountains as it was quieter and even though she had dementia as soon as we walked outside she said the fresh air was beautiful," Ms Andrews said.
"As she was not at risk and just receiving treatment and we had a quiet moment, we decided to take her to the lookout to show her the view on the way."
Wanting to share a small moment of joy, Ms Andrews said she could have never predicated the impact it had on Ms Collins and her family.
"We wheeled her down and as she was looking around she had this moment of clarity and said she remembered coming there a long time ago with her husband," she said.
"She had this beautiful glow and look of happiness on her face so I took a photo to send to her daughter Kim, who said the family was overwhelmed that we would take the time to do that."
Ms Collins said the visit to the Mountains was just beautiful.
"It was lovely that they took the time to do this. It made me feel special," Ms Collins said.
"It makes all the different when you are treated with patience and kindness."
On the frontline of the pandemic for the past two years, Ms Andrews said paramedics pride themselves in providing high levels of care to every patient.
"When a family member is in care you always worry if people are caring for them properly and treating them with respect," she said.
"There is a lot of hustle and bustle in this job but patients to us are not just numbers and under our care we wanted to make it a bit special and spread some positivity and Evelyne loved it."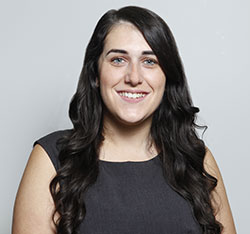 A graduate of Western Sydney University, Emily covers Local, State and Federal politics for the Weekender, as well as crime and general news.