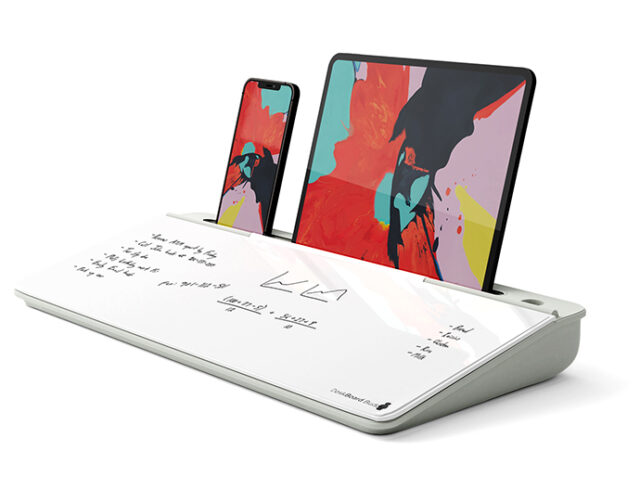 In 2021, ditch the sticky notes. The DeskBoard Buddy desktop whiteboard is the perfect companion for your desk.
It features a glass dry erase whiteboard so you can easily keep a dynamic to-do list in front of you while you work. It also works great to capture notes while on a phone call, or to jot down quick information during an online meeting.
The DeskBoard Buddy also doubles as a stationery organiser with a hidden storage compartment underneath the glass whiteboard. It has enough room to store all of your pens, pencils, rulers, earbuds, portable harddrives, and even calculators!
Last but not least, the DeskBoard Buddy comes with a built-in phone and tablet stand. Allowing you to stand up your tablet and use all your favorite apps while you work. Or stand up your phone and never miss another notification again.
The DeskBoard Buddy team will also plant one tree for every deskboard sold. So you can do your part to help the environment through reduced paper waste, and also plant a tree in the process!
Get your DeskBoard Buddy today at www.deskboardbuddy.com.
The Weekender has three Desktop Buddies to give away. For your chance to win one, send an email to [email protected] with 'Buddy' in the subject line. Don't forget to include your contact details. Entries close Friday, November 5 and the winners will be notified by email. Terms and conditions are available here or Weekender reception.