Western Sydney University (WSU) has revealed its vision for a collaborative hub to create new jobs and technology for local businesses.
The proposed Tech Jobs Accelerator is a three-storey facility that would deliver future-ready training, jobs and industry partnerships for sectors like advanced manufacturing, construction, transport and logistics.
Assistant Vice-Chancellor and Director of the Centre of Western Sydney, Dr Andy Marks said it is a pivotal plan to add to the developing region.
"Our Launchpad project at Werrington achieved its targets in terms of job creation two to three years ahead of schedule so with the airport announcement and the Western Sydney City Deal we want to look at what works well and do it bigger and better," he said.
"The other element is TAFE's announcement of its Institute for Applied Technology that has a focus on construction so we thought how could we improve our efforts to sync in with what TAFE is planning to do."
With the project still not set in stone, the vision was launched over an online webinar on September 2 to share with potential industry partners.
Mr Marks said one of the potential sites being discussed for the proposed project is adjacent to the future NSW TAFE Institute for Applied Technology for Construction at the Kingswood TAFE campus.
"We are confident Government will support the initiative given its very significant contribution to jobs and industry attraction targets," he said.
"We are excited to get started as soon as possible so we can deliver much-needed opportunities to Sydney's hardest working areas."
Federal Member for Lindsay, Melissa McIntosh joined the launch to show her support, signalling the potential of future funding support from the Federal Government.
"I think the good thing about what the university has been doing is advocating for this for quite some time now and it fits in well with our focus on job creation in western Sydney," Ms McIntosh said.
"We need industry behind this as well being strong supporters of the need for a facility like this one to ensure we do have those linkages in industry, we are educating our young people in the jobs we have coming and have those opportunities right here."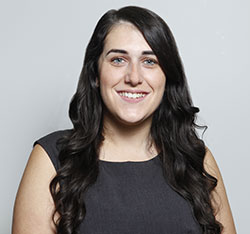 A graduate of Western Sydney University, Emily covers Local, State and Federal politics for the Weekender, as well as crime and general news.