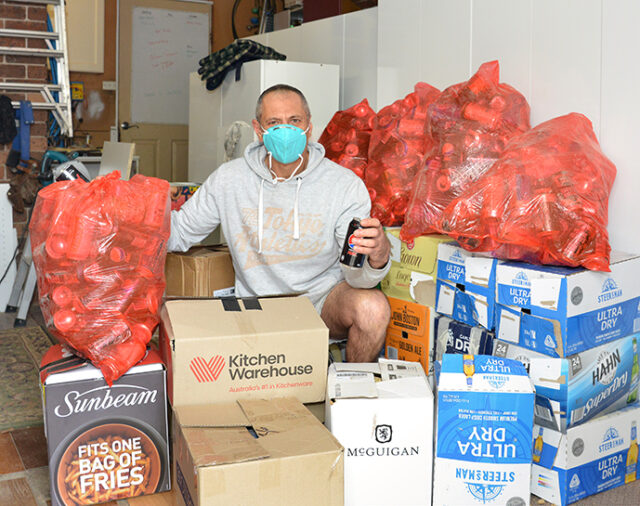 Popular recycling scheme, Return and Earn resumed last week after an eight week hiatus, but will remain closed for Local Government Areas of Concern until September 29.
Return vending machine stations were closed to the public from July 20 due to public health concerns, despite the service having operated through last year's lockdown.
The scheme recommenced from September 15 for NSW residents, excluding those in LGAs of Concern who will have to wait until September 29.
The reasoning behind the sudden backflip is unknown, as case numbers continue to rise, with NSW far from its 70 per cent double vaccination target.
Nonetheless, it's great news for the people who rely on the service, whether it be to contribute to life's expenses, for some extra pocket money or fundraising.
Return and Earn users like Dave Attard say their backyards, garages and homes are looking like a tip with the backlog accumulated during the pause.
"I've been doing this for about three years now, we save about $150 a year and the money goes straight to my kids' savings," he said.
"I'm a fireman and we also use it to fundraise for the brigade for things like tea and coffee as those aren't supplied for firemen.
"The brigade has a stockpile at the moment and my garage is currently loaded."
A Return and Earn NSW spokesperson said anyone visiting a return point must comply with the latest Public Health Orders, including checking-in via the QR code displayed, wearing a mask, maintaining social distancing and practicing good hygiene.
"Touch-free recycling is also available at all Return and Earn reverse vending machines, meaning there's no need to touch the machine, just your own containers," the spokesperson said.
A graduate of Western Sydney University, Nicola Barton is a news journalist with the Western Weekender, primarily covering crime and politics.