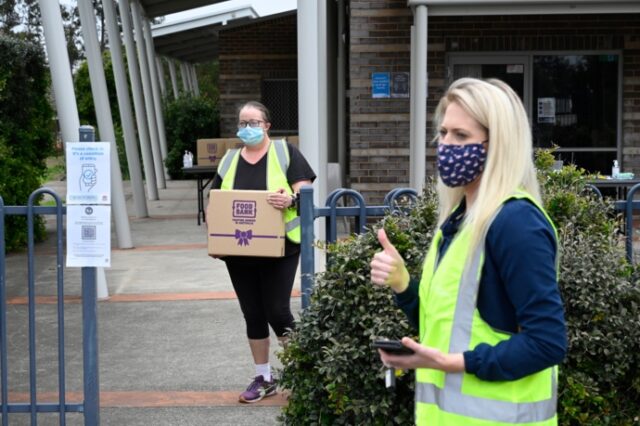 A contactless Hamper Hub is now operating in one of Penrith's most vulnerable pockets as part of Penrith City Council's ongoing bid to help provide much-needed relief for community members facing challenges due to the COVID-19 pandemic.
Led by feedback from local schools and community organisations indicating emergency food supplies were required to assist Penrith's 12 suburbs of concern, the 'drive and collect' Hamper Hub in North St Marys is coordinated by Council and delivered in partnership with local services, including FoodBank, WestCare and Community Junction, with support from volunteer group Turbans 4 Australia.
Staff from Ripples Leisure Centre, who are unable to work while Council's facilities remain closed under the state's Public Health Order, are currently operating the Hamper Hub.
The food hampers are filled with non-perishable, essential items such as rice, pasta and beans, sauce tins, canned fruit and vegetables, long-life milk, tea bags and freeze-dried coffee.
The Hamper Hub opened on Thursday 2 September, with the first day of operations seeing over 30 food hampers distributed. Feedback has been overwhelmingly positive as Council adapts this new model to meet real-time needs of the community.
With bookings essential, this is a drive-in only service where our staff load hampers into car boots to ensure the safety of our staff and community members.
Penrith Mayor Karen McKeown said financial and social disparities are greater than ever in our City and now is the time to act, to alleviate the burden placed on those in our suburbs facing tougher restrictions.
"We know people in our community are doing it tough – the sad reality of this pandemic is that there are families and individuals out there who are unable to put food on their plate and we are hearing many stories like this directly from our residents," Cr McKeown said.
"Council would like to recognise and thank the local sector for working around the clock for several weeks to assist those who are struggling in lockdown.
"The great need during this trying time means services are limited, particularly in our areas of concern, so we worked with local organisations to establish the Hamper Hub and promoted the availability to the list of schools and residents who have approached Council directly for help.
"Council will work with relevant agencies to continue monitoring our City's needs to seek to ensure emergency food relief services are available to as many people as possible. No one should have to go days without a meal, especially at a time when there is so much uncertainty. Help is available thanks to the work of volunteers and services across our City.
"I would like to once again remind people that we are in this together Penrith – we are a strong, resilient City and we will get through this."
In addition to the Hamper Hub, Council continues to work closely with local service providers and has been offering free personal protective equipment (PPE) for those working in the community with the support of charity Good360.
The Hamper Hub is operating three days a week and is currently taking phone bookings via 0406 528 331. Find out more about this and other community services available at penrith.city/covid19.