Byron Garn might be an apprentice plumber from Penrith, but he also has a stellar set of pipes on him.
The 19-year-old blew everyone away during his blind audition on the 10th season of the television singing competition 'The Voice'.
The hit TV show is back on a new channel, with talented coaches Keith Urban, Jessica Mauboy, Rita Ora and Guy Sebastian, and unassuming artists like Byron waiting to be discovered.
While he had never performed to a large crowd, Byron told the Weekender he wasn't going to let nerves get to him.
"I have been singing for a quite a while and love it but I have never done anything big like that before, I've only ever sung in front of friends and family," Byron said.
"I was stoked when the opportunity to try out came around and I was going to just go for it to have the experience."
With his version of Lewis Capaldi's ballad 'Before You Go' turning the chairs of Rita, Guy and Jessica, the teenager said he was shocked.
"I tend to connect with the lyrics of songs like that a little easier and am able to put out the emotions of a sad song much more compared to a happy song," he said.
"I had a tiny bit of hope obviously but I was honestly shocked when three judges turned around but it was a really good feeling."
Faced with a tough decision, Byron decided to go with Guy to be his coach and mentor for the next round.
"All of the other judges are amazing so it was a hard decision but I have always listened to Guy from quite a young age," he said.
"I love his music and I thought he had the best route and teaching skills to push me in the direction I want to go."
Proud to be representing the 'Riff', the laid back larrikin said he is focused on excelling in the competition so he can pursue singing as a legitimate career.
"It is an amazing experience and as you progress through each round it can be hard as you love everyone, but at the end of the day you are there to try to win," he said.
"My main goal is getting as much knowledge and experience so I can accelerate and make it a career."
Watch Byron on 'The Voice' on Channel Seven on Sunday at 7pm or on 7plus.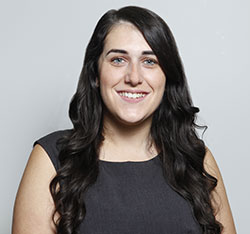 A graduate of Western Sydney University, Emily covers Local, State and Federal politics for the Weekender, as well as crime and general news.