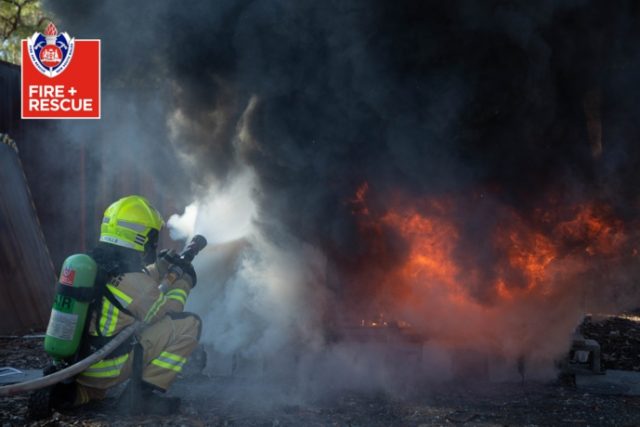 As we head into winter and the temperatures drop, residents of NSW are being encouraged to stay out of harm from house fires.
Fire and Rescue NSW (FRNSW) typically observe a 10 per cent increase in the number of residential fires during the cooler months due to heaters, electric blankets and overloaded power boards. Last winter firefighters attended more than 1,000 house fires across the state.
Minister for Emergency Services David Elliott today launched the Fire and Rescue NSW Winter Fire Safety Campaign at Londonderry where firefighters demonstrated how quickly a bedroom fire can take hold.
"Tragically, FRNSW has already attended seven fire fatalities this year and winter is still ahead of us," Mr Elliott said.
"A fire can take hold in just three minutes, filling your home with deadly smoke. I recommend you heed the advice of firefighters to ensure that you and your loved ones are home fire safe this winter.
"FRNSW does a great job in protecting our community however if we all do our bit to minimise the risks in our home, we can all stay safer together."
FRNSW Commissioner Paul Baxter said it was vitally important for people to have a working smoke alarm in their home and to test it regularly.
"Every year, approximately 20 people die in NSW from fires that could have been prevented. Each death is a tragic loss for families, friends and the wider community," Commissioner Baxter said.
"The best way to stay out of harm this winter is to take measures to prevent a fire from occurring in the first instance."
FRNSW remind the community to:
· Keep looking when cooking
· Don't overload power boards
· Keep everything a metre from the heater
· Never use wheat bags to warm your bed
· Check electric blankets for frayed cords and other damage
· Don't use outdoor heating and cooking equipment inside the home as it can be fatal
· Have a Home Escape Plan
Most importantly, if a fire does occur, get out, stay out and call Triple Zero (000).