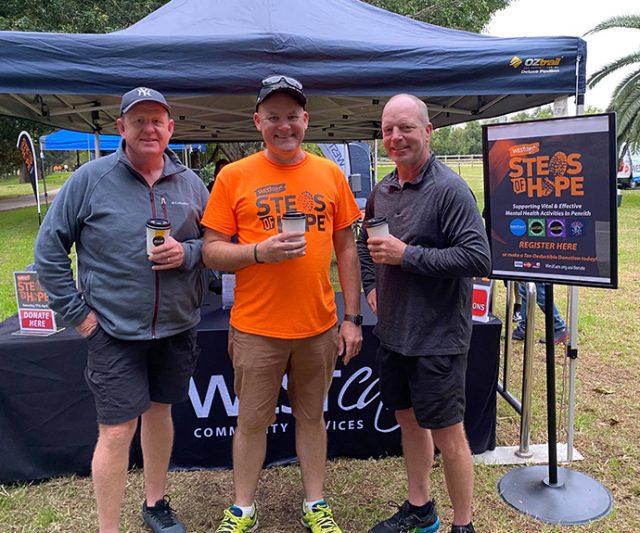 WestCare's annual Steps of Hope took place last Saturday, with members of the community heading to the Nepean River in an effort to raise money for mental health causes.
"We had to cancel the date a couple of times, and now it seems like it was almost the perfect day for it," WestCare Director, Andrew Paech said.
"We got through the floods and everything, and then we flooded the Nepean with the beautiful, bright orange t-shirts for a great cause, really making a strong statement about mental health in our area."
The walk had 169 registered participants, who were given a free t-shirt, sausage sizzle, snacks and water throughout the day. Their participation, as well as donations to the cause, has seen them raise more than $15,000, which will be used to help both the Penrith Men's and Women's Walk and Talk Programs, and the Gotcha4Life Tomorrow Man program, which operates in local high schools.
Mr Paech was also pleased with the awareness raised by their presence at the walk.
"All day, people came up and asked 'what's this about? What's with the orange shirts?'," he said.
A lot of these passers-by then made their own donations to the cause.
"It definitely does [raise awareness], that's a big one," Mr Paech said.
"Mental health is quite a serious topic, but on one hand it certainly removed some of the stigma, but it's not just that – it's actually a very happy day."
Steps of Hope has been running for 11 years now, with donations going to various causes over the years, including community programs and domestic violence. However, WestCare are moving forward with a vision to dedicate the event to mental health causes from now on.
The event was helped along by donors Luke from Sydney Direct Fresh Produce and Scott from East Blaxland Meats, who donated meat and items for the barbeque.
"What that does is just remove extra cost, and it enhances the community contribution and allows us to value-add," Mr Paech said.
"That's all included, it helps with the participation, which is the primary goal of Steps of Hope – participation, and engagement."
You can still donate to the Steps of Hope campaign by visiting www.stepsofhope.org.au.
Erin Christie is the Weekender's entertainment and community news journalist. She has worked with Are Media, Good Reading Magazine and a host of other publications.