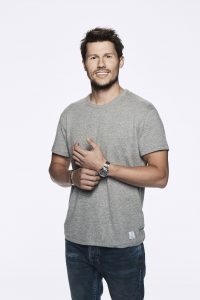 Jason Dundas is a global media icon and has hosted the world's biggest productions, both locally and abroad.
Through an energetic and supportive upbringing in South Penrith, Jason was driven to shape his own path and create his future. Success, according to Jason, comes from having the self-confidence and work ethic to enable you to seize an opportunity as they arise.
"The key to success is being open for opportunity…be aware of the opportunity, see it, then capitalize on it without hesitation," Jason said.
"You have to back yourself, but it doesn't happen overnight…you have to understand your strengths and what you can do…learn to identify the opportunities."
It was a meteoric rise, to some extent, for Jason. Having been successful in his application to host a new MTV show in his early twenties, Jason went on to host further productions on the network before moving onto other popular shows including Getaway and X-Factor.
Now living in Los Angeles, Jason reflects on the learnings he has recognised over the years – all the while remaining true to himself both on and off camera.
"From my perspective, the key to being a great host is being the best version of yourself without any inhibition…having the ability to really be as authentic as possible," Jason said.
"(Good hosts) allow themselves to think on their feet…it's a delicate dance between being the truest version of yourself and then also having the energy (on screen)."
Whilst still spending time in front of the camera, Jason has gone on to create his own business – Dundas Media – an outlet that enables him to further share his creative streak with the masses.
"I have this energy for experiencing things, creating things and building things…if I can make my own stuff, I am steering my own destiny," Jason said.
"About 5 years ago I switched gears…and that's when I created my business Dundas Media, which produces content…that's when everything changed, and I took control of my own destiny."
In what has been a remarkable journey to this point, it is the laser-like focus and watertight discipline that has shaped Jason's achievements and milestones.
"As an entrepreneur, the biggest thing I found was choosing a lane and not being distracted away from that," Jason said.
"You start to realise that (the distractions) take you on a tangent and off the trajectory of what you're trying to achieve."
Find out more in the latest episode of the Passion & Perspective Podcast, hosted by Jonathan Robinson-Lees.