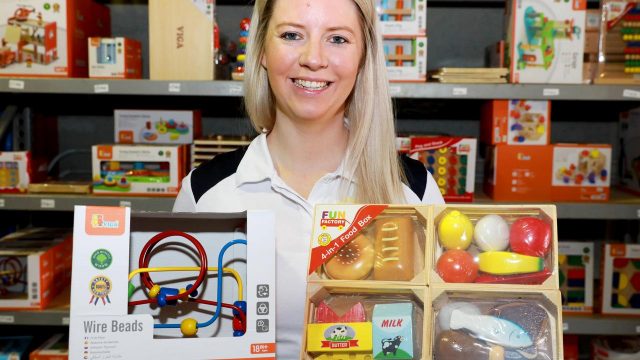 Bec Slack is the owner of local business, Cleverstuff Educational Toys, a venture she took over in 2015. It was a leap into the unknown for Bec – who revolutionised the business – shifting their products to digital platforms to make them more accessible and reinforcing the importance of education through experience.
The importance of education, however, is not a new concept for Bec. Having attended Penrith High School, academics have often been a focus for her and have shaped her passion to promote learning at a young age.
"Promoting education through toys is setting up a foundation to love learning…if you make learning fun for a 2-year-old, they've got more chance of thinking learning is fun (down the track)," Bec said.
"It's encouraging quality time for families…it's developing language, maths skills, hand-eye coordination. The actual skills children are developing while they're playing…it's phenomenal."
The emphasis on learning through experience is fundamental to the mission of Cleverstuff and there is a deliberate focus to ensure all toys are centred on enjoyment, whilst also playing on the nostalgia of many parents through the use of wooden toys.
"The toys have to have educational value…it's all about imagination…getting the child to engage with the toy," Bec said.
"Moving away from the plastic, disposable toys has been really important…it feels different when you're playing with wooden toys."
Whilst is has been a whirlwind six years for Bec, the opportunity and ability to make an impact to the local community is not lost on her and is, in fact, the motivation for the business.
"Things have taken time…we've continued to grow the business over the past 6 years, but it has been a slow-burn," Bec said.
"(Our vision of success) is that more kids are enjoying learning…it's all about having fun while you're learning."
Find out more in the latest episode of the Passion & Perspective Podcast, hosted by Jonathan Robinson-Lees."