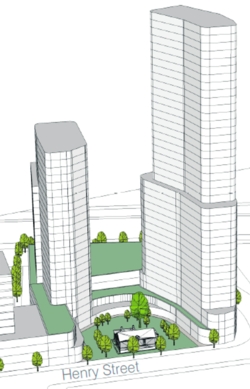 Steps to activate the eastern end of Penrith's CBD with two soaring towers – one 41 storeys and the other 25 storeys in height – have been delayed.
On Monday night, Penrith Councillors deferred the endorsement of a Planning Proposal and Voluntary Planning Agreement (VPA) for 57 Henry Street, Penrith.
Placed on public exhibition in 2019, the Planning Proposal seeks to amend the Penrith Local Environmental Plan 2010 to facilitate the high-rise development, which is tipped to feature about 450 residential units plus commercial and retail space.
The proponent, Trio Property Group, provided Council with a VPA to deliver traffic improvements in the vicinity of the site, which sits on the corner of Henry and Evan Streets, west of the Lemongrove Bridge.
During Council's Ordinary Meeting, Councillor John Thain sought a deferral, requesting that "we get all the information completed before it goes forward".
"I just think it's not complete, there's too many gaps there," he said.
Councillor Marcus Cornish also requested the documents go back before the Heritage Advisory Committee in their current form.
The former Penrith Infants Department building, circa 1884, will be retained and is proposed to lie between the towers.
During the meeting, a statement from concerned citizen Robert Simpson was read out criticising the lack of commercial space and claiming it would set a "dangerous precedent" for the city's other key sites.
"If all the key site developments only provided commercial floor space of 0.75:1, then Penrith will not be able to attract the large corporate or government departments and jobs that a regional city should be aspiring for," it read.
"This proposal is essentially a residential development with minimal commercial and retail space thrown in to justify the zoning.
"Council should be providing jobs and commerce for the ratepayer, not providing profits for the developer."
Meanwhile, Councillors did endorse the Planning Proposal and VPA for 39 Henry Street, which flanks the eastern side of the Lemongrove Bridge.
Trifalga Property Group plans to build 445 apartments and a 100-room hotel on the former Keg restaurant site.
Under the VPA, Trifalga will also deliver traffic upgrades to the already-problematic Henry and Evan Street intersection.
Both projects will be subject to future separate Development Applications following completion of the Planning Proposal process.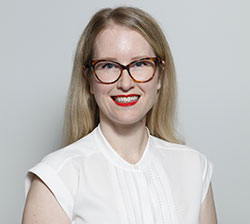 Alena Higgins is the Weekender's Senior News Reporter, primarily covering courts and Council issues.