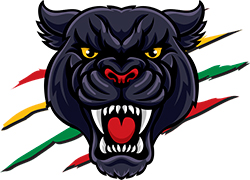 Why Panthers couldn't resist BlueBet
Penrith's stadium naming rights deal with BlueBet is one of the biggest in NRL history for a suburban ground. It's part of the reason why the club simply couldn't resist going back on its 2017 commitment to reclaim the name under its own branding.
"The significant and ongoing financial impact of COVID-19, combined with the considerable investment from BlueBet, made this a fantastic opportunity we simply couldn't pass up," said Panthers CEO Brian Fletcher.
"We're excited to welcome BlueBet to the Panthers family and look forward to giving our members and fans plenty to cheer about at BlueBet Stadium."
The deal is purely for naming rights and signage, fans won't be bombarded with offers or betting incentives.
The deal is Penrith's most lucrative naming rights agreement in the stadium's history.
Head honchos evacuated
Penrith coach Ivan Cleary and Chairman Dave O'Neill were among those evacuated from their properties on Sunday as the flood crisis in the region escalated.
There were some slight concerns over the Rugby League Academy too, though it is built at a particular elevation that protects it from most flooding events. Despite some initial thoughts that the preparations for Thursday's game against Melbourne would be shifted from the Academy, training went ahead in wet conditions this week.
Panthers keep Grand Final talk low key
Were the Panthers deliberately avoiding talk of the Grand Final re-match this week? It was interesting to note that the club put up Mitch Kenny, Spencier Leniu, Paul Momirovski and Charlie Staines for interview at a media session on Tuesday. None of them played in the Grand Final team that went down to Melbourne last October, so any talk of retribution or revenge was largely out the window.
Api injury kept quiet
The Panthers did exceptionally well to keep news of Api Koroisau's broken wrist under wraps until the day of the game against the Bulldogs last Saturday.
The club had known since early last week that the 2020 buy of the year would require surgery and faced some six weeks on the sidelines. It was only on Friday that whispers started to circle that Mitch Kenny would start at hooker for Koroisau, who is a known fast healer and is hoping to be back on the park in a month.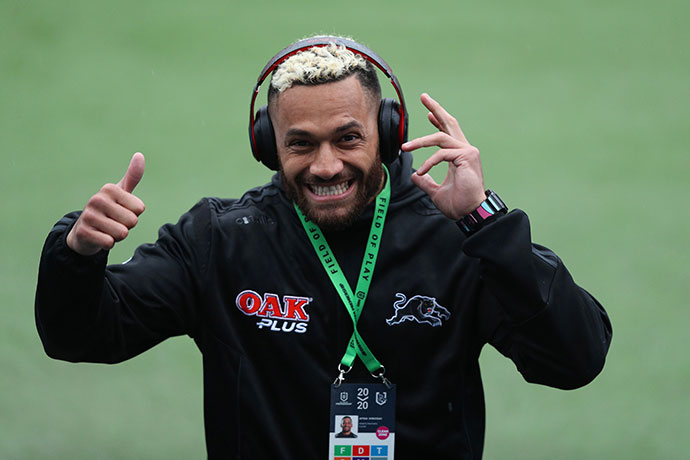 Spotted
1 – Penrith officials watching the Panthers v Bulldogs clash from one end of Bankwest Stadium after purchasing their own box for the game, choosing to avoid the awkwardness in the Bulldogs' facilities given the ongoing Matt Burton drama.
2 – Panthers five-eighth Jarome Luai and several teammates enjoying a burger at Big Daddy's after Saturday's win over the Bulldogs.
3 – Suspended centre Brent Naden watching the Panthers v Mounties NSW Cup game from the sideline in wet conditions last Saturday.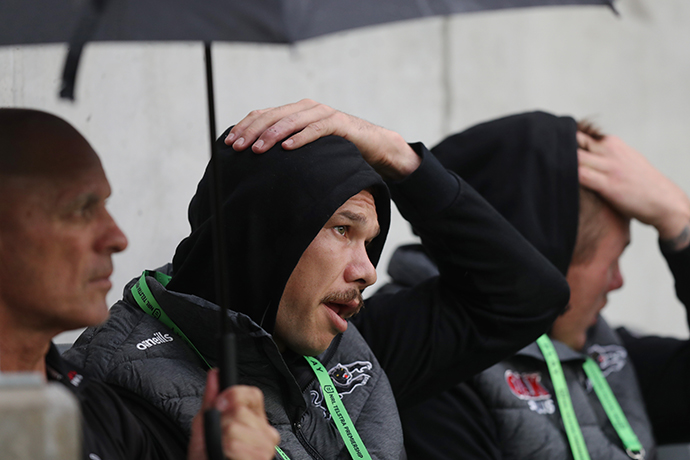 4 – The ground staff at Bankwest Stadium working over-time before the Panthers v Bulldogs game last Saturday trying to get the line markings in place.
Manly game a hot ticket
Getting tickets to Lottoland for next Thursday's clash against Manly may be a tough ask for some Panthers fans. Manly say a "limited number" of tickets for the Round 4 match will be made available to Panthers Members. They were scheduled to go on sale today, with general public tickets on sale on Friday. The game is played on the eve of the Easter break, so is a chance of attracting a decent crowd.
Spill the tea
Heard a rumour? Spotted a Panther out and about? I can't keep secrets but I do protect my sources. Email [email protected].