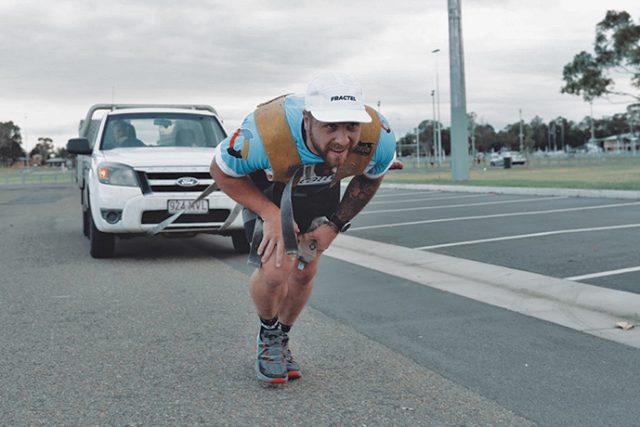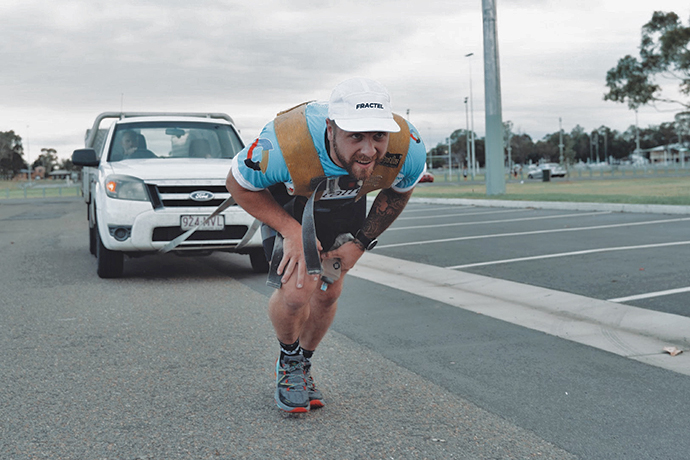 A local man has taken on an exhausting challenge this week in his attempt to raise $20,000 for Childsafe Australia.
Corey Philpott, a 23-year-old staircase technician with an eye to becoming a full time professional extreme athlete, is pulling a 1.5 tonne Ford Ranger behind him for the distance of a marathon – 42.2 kilometres.
Across 30 laps of the 1.5km track at Jamison Park, Mr Philpott is hoping to finish the pull within 14 hours, three and a half hours less than the world record.
"I've had my eye on this record since I was about 17, and I've been actively training for it for the last seven months," Mr Philpott said.
"My day normally starts around 2am, where I will get in two to three hours of weights before work.
Every second day I do a car pull. On the weekends, when I'm not doing a car pull, I run between 30 and 35 kilometres.
"All my training is done in the night while my family is asleep so I can be with my family when they are awake," he said.
Mr Philpott was inspired by his family to take on this challenge.
"My wife was sexually abused as a child and has suffered heavily from PTSD after giving birth to our first son, Jacob," Mr Philpott said.
"I don't want another child to have to go through what she has gone through … this is why I am working with Childsafe Australia to help create change and open up the conversation."
Childsafe Australia works with communities to prevent behaviour that is harmful or abusive to children and young people when in the care of an organisation.
In Australia, one in five children are abused before the age of 18.
"We are so thankful to Corey for undertaking this World Record attempt," General Manager of Childsafe, Neil Milton said.
"It is bringing awareness to child abuse in our nation, a topic many don't want to talk about and to raise much-needed funds for ChildSafe that will be used to create new training and resources to prevent harm and abuse of children in organisations and beyond.
"Child safety is everyone's business, and together we can make a difference."
Erin Christie is the Weekender's entertainment and community news journalist. She has worked with Are Media, Good Reading Magazine and a host of other publications.