Whether you want to deck out your man cave or show off your support in your home or office, eBay can be the perfect place for Penrith Panthers fans to spend some money.
We've compiled a list of the top five quirkiest Penrith Panthers items on eBay right now.
Happy bidding!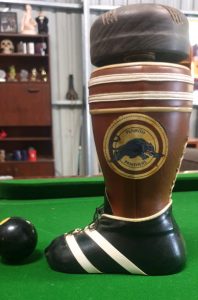 Penrith Panthers 1970's boot
Here's a collector's item that not too many people would have lying around.
This empty Penrith Panthers port bottle from the 1970s features the classic Panthers logo, and appears to be in reasonable condition for its age.
It's currently selling for $140, though the owner is accepting offers.
Perfect for any man cave – just a shame the bottle is no longer full!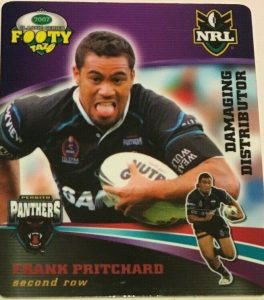 Frank Pritchard Tazo
If $140 is a little too expensive for your budget, the cheapest Penrith Panthers item on eBay could be the answer.
This Frank Pritchard Footy Tazo from 2007 is on offer for just $1.49, though you'll be up for $1.25 in postage.
Beautifully designed, it features Pritchard's stats and labels him a "damaging distributor".
Penrith Panthers Ampol sticker
The Ampol brand is back in Australia so it's the perfect time to pick up a 1978 sticker featuring Ampol and the Panthers.
Using the classic brown and white branding an odd-looking Panthers logo, the sticker declares: "I'm a fan of the Panthers".
The sticker has never been used and the seller says the backing paper is still in tact.
It's available for $49.00.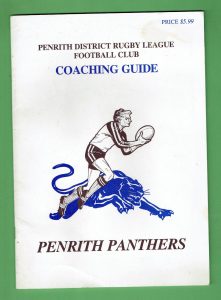 1985 Panthers coaching guide
Are you planning to coach a Junior Rugby League team this year? You need to get your hands on the 1985 Penrith Panthers Coaching Guide.
Originally on sale for $5.99, a seller on the Central Coast of NSW is asking $30.00 for this beauty today.
This 40 page guide has some damage to the cover, but otherwise is in pretty good nick and has lots of valuable information.
So if you want to learn the plays to make you a coaching superstar, get your hands on one of these!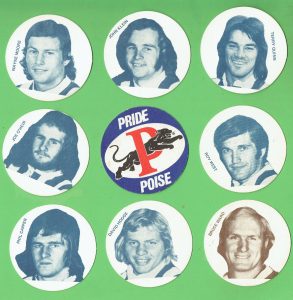 1975 Penrith Panthers coasters
Perfect to put your beer on during any game this season, these 1975 coasters are in almost as good nick as the hair portrayed in some of the pictures.
Each coaster has the message 'Follow the Panthers in 75' on the back, and there's 18 coasters in total.
The price isn't for the faint hearted though – the seller wants $500 for the collection.