St Marys bus manufacturer Custom Denning was visited by Federal Minister for Energy and Emissions Reduction Minister Angus Taylor last week to showcase their new electric buses.
This comes as a western Sydney survey conducted by Federal Member for Lindsay, Melissa McIntosh has revealed a surge in local support for Australian made products.
Recognising the quality of value of Australian made products was a consistent theme throughout the survey's over 250 respondents.
Custom Denning Managing Director, Scott Dunn said he is incredibly proud to have built a state-of-the-art bus locally which will be rolled out to THE Busways Penrith depot in coming weeks.
"We have electric buses going to Penrith and Leppington and then Queensland and Victoria before we start full production in April where we can make eight a month for customers," Mr Dunn said.
"Both here and in England where I am from, we have seen all car manufacturers close down so it is exciting to have the lightest battery vehicle in the world built not in China but right here in St Marys."
Mr Taylor said it was great to see a local manufacturer creating low emission technology for customers.
"It is particularly exciting to see Australia have the best vehicle in the world with technology that works for customers and brings down emissions which is good for everyone," Mr Taylor said.
"Entrepreneurs are great employers because they employ locals but also teach new skills such as a diesel mechanic learning to work on electric vehicles which is essential to build our manufacturing base back up."
With Custom Denning planning to train new employees to build more buses, Ms McIntosh said it will be beneficial for future jobs.
"When I talk about putting western Sydney at the heart of a new era of manufacturing this is the perfect example of local innovation and people doing things themselves because they believe in what they are building," Ms McIntosh said.
"It will be a wonderful opportunity to get people in new apprenticeships to get them trained up so they can help lead the way."
Launching the Lindsay Advancing Manufacturing Taskforce, Ms McIntosh said she will fight to address barriers and create new opportunities for the area.
"By listening to our community, schools, businesses and manufacturers about what matters to them, we can put in place the support where it's needed most, and ultimately, create more local jobs," she said.
(Angus Taylor, Scott Dunn, Melissa McIntosh and Grant Mascord. Photo: Megan Dunn)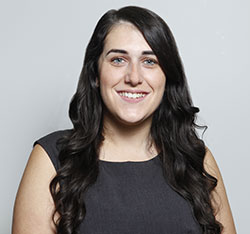 A graduate of Western Sydney University, Emily covers Local, State and Federal politics for the Weekender, as well as crime and general news.