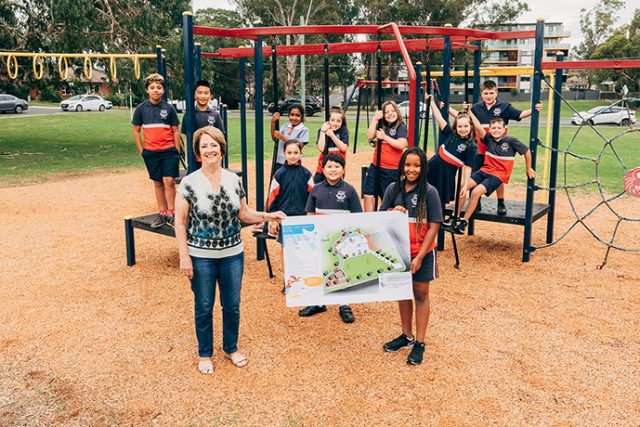 A vision for a fresh, fun and inclusive play space will come to life in Penrith thanks to the hard work of some of the city's youngest residents.
This week a group of Year 4 students from Penrith Public School presented their ambitious plans for Spence Park to Penrith Mayor Karen McKeown, who eagerly gave the nod of approval.
The Penrith Mayoral Challenge 2020, run by Council's Neighbourhood Renewal team, saw budding architects participate in 12 workshops before delivering ideas for new equipment.
During the workshops they did everything from map out local demographics and assess the site's accessibility, to undertake a habitat count and shade and flood study.
Cr McKeown said the annual program continues to be a success and this year's result is a true reflection of the students' creativity and dedication.
"I am blown away by this fantastic design – what a wonderful, welcoming space the students have envisioned for Spence Park," she said.
"There is no doubt this park will be one for children of all ages, as well as their parents, friends and other family members once the transformation is complete."
Extensive groundwork by students forms the basis of a transformative design, which will have climbing equipment, a slide and swings, toddler play, stepper logs, mini soccer goals and a handball court.
The park will have new shaded areas, modern landscaping, upgraded footpaths and wheelchair accessible picnic areas.
Part of the environmentally friendly plan to also accommodate the area's habitat includes quirky features such as nest boxes and insect 'hotels'.
The project will be delivered in two stages. Stage 1 will cost $200,000, to be funded by Council.
The State Government has this week approved a further $33,028 through its Community Building Partnership program, which will fund additional elements to further improve the park's accessibility.
Completion of the Spence Park upgrade is slated for mid-2021.