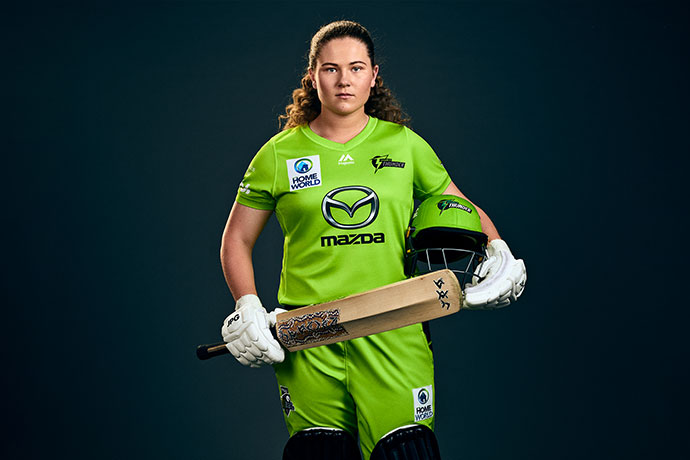 Hannah Darlington was raised in Erskine Park and surrounded herself with a myriad of sports from a young age. Support and guidance from her parents ensured that there was more to her upbringing than just cricket, with a deliberate emphasis on socialising with friends and a commitment to education.
Being involved with the NSW Breakers and Sydney Thunder squads from her teenage years, Hannah developed a sound understanding of the game and important life skills from her senior players. Experiencing the rise of women's cricket firsthand, Hannah reflected on the impact that the WBBL had on her career ambitions.
"I still remember sitting at Howell Oval for the first WBBL game – I sat there and did the sight screen with Dad and a couple of mates", Hannah said.
"Sitting there watching Sydney Thunder play the Sixers and thinking 'I want to play for the Thunder'. It was a light-bulb moment."
One year on from that inaugural season, Hannah was a member of the Sydney Thunder squad. Biding her time, Hannah went on to make her debut last summer in WBBL|05. Leading Sydney Thunder with 16 wickets, Hannah claimed the Rookie of the Year title across the league. Further experience with Otago Sparks in New Zealand and a surprise debut with the NSW Breakers capped off a magical season for Hannah.
The ability to compartmentalise and focus on the task at hand through a whirlwind season, was the key to the on-field performance according to Hannah.
"I do put my success down to the fact that all my focus wasn't on cricket. I think having the HSC there to keep my mind off cricket probably helped me to have a good season", Hannah said.
"(I would consider) what I need to get done in the present moment, and that was either study for an exam or go and prepare with Sydney Thunder."
Hannah's growth and development now extends to her off-field endeavours and she has immersed herself into tertiary education, studying Marine Science at Macquarie University. With a passion for the environment, Hannah is excited about the prospect of making an ongoing difference once her cricketing days are finished.
"It (Marine Science) is something I'm really passionate about. I think it is really cool to be able to come home from cricket training and then find another passion", Hannah said.
"It is something I look forward to have on the side from cricket."
Find out more in the latest episode of the Passion & Perspective Podcast, hosted by Jonathan Robinson-Lees.