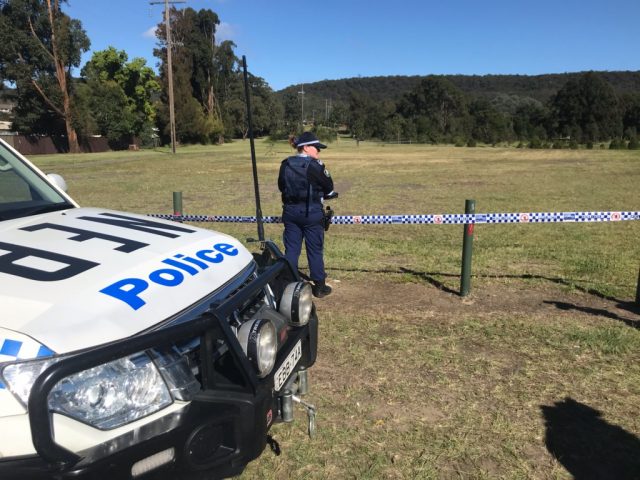 Police have confirmed the man killed in a stabbing at Emu Plains this morning was dead for several hours before his body was found.
Just before 8am emergency services were called to Bunyarra Drive Reserve on Russell Street, following reports a man had been stabbed.
The man is believed to be aged in his 20s.
Officers from Nepean Police Area Command and Homicide Squad established a crime scene and commenced an investigation into the circumstances surrounding his death.
A vehicle was found crashed in a nearby creek and was secured by police as part of the investigation.
Whilst early speculation suggested it may have been in relation to a road rage incident, police confirmed they believe the attack was targeted.
Emu Plains resident Carmel Mitchell witnessed the devastating scene when on a fitness walk this morning.
"As I was walking I saw one of the cops walk over near the fence and I saw this lump and I heard him say 'definitely gone' and lifted up what I then realised was the arm of a body," she told the Weekender.
"I went home to my husband and had a little cry to him and then we saw it on the news.
"It really rattled me, because that's someone's family, you know?"
Ms Mitchell said she saw two black hooded men in the park around the time that the police arrived.
Nepean Crime Manager Detective Inspector Jason Pietruszka said those two men are now assisting police with their inquiries.
"We believe the males are known to the deceased and they are providing information that is being investigated," he said.
Detective Inspector Pietruszka said the victim was "unfortunately, adversely known to police."
"His interactions with police recently do cause concern but it does point us in the direction of why he may have been in the area," he said.
Detective Inspector Pietruszka couldn't confirm whether the vehicle belonged to the victim, however said evidence shows he was in the vehicle at some point in time before his death.
Investigations are continuing.
A graduate of Western Sydney University, Nicola Barton is a news journalist with the Western Weekender, primarily covering crime and politics.