New details of the proposed town centre for Mulgoa Rise have emerged, though residents will have to wait another two weeks until a final determination is made.
The applicant met with Penrith City Council and the Sydney Western City Planning Panel (Panel) this morning and discussed the matters in dispute.
During the meeting, held via public teleconference, participants heard Woolworths was the chosen supermarket tenant for the shopping centre with a 'Woolworths Metro' model proposed.
The slated car wash, planned for the corner of Glenmore Ridge Drive and Glenholme Drive, appeared to be a bone of contention, with Council wanting it gone amid concerns it will disrupt traffic flow inside the car park and also on the street.
Acoustic concerns were also raised, however these were not supported by the applicant's own acoustic report.
Council wants the car wash replaced with additional car parking and landscaping, however the applicant wants it to stay, saying it has merit.
The Panel suggested the applicant consider other forms of activation for the corner that might not have the same traffic impacts.
Participants also heard the applicant had simplified the staging of the development, decreasing it from five stages to just two to address safety concerns.
This means the three levels of residential apartments, to be built above the centre, will be structurally complete and only require fit-out before the shopping centre and commercial businesses below are open to the pubic.
The applicant was given 24 hours to provide the Panel with further information addressing the contested areas of the development application (DA).
No issues were flagged with respect to the inclusion of the 147 residential units in the DA, except for the length of the corridors in Block A.
If ultimately approved, the long-awaited town centre will be a major game changer for Glenmore Park's newest estate.
In addition to a supermarket and specialty shops, the town centre – which will be built on vacant lane bordered by Glenmore Ridge Drive, Darug Avenue, Deerubbin Drive and Glenholme Drive, will also feature a childcare centre, swim centre, gym, pharmacy and medical centre.
A basement car park providing 271 car parking spaces – made up of 197 residential spaces and 110 commercial spaces – has been proposed, as has 206 car parking spaces at ground level.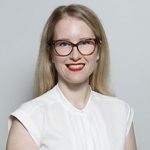 Alena Higgins is the Weekender's Senior News Reporter, primarily covering courts and Council issues.