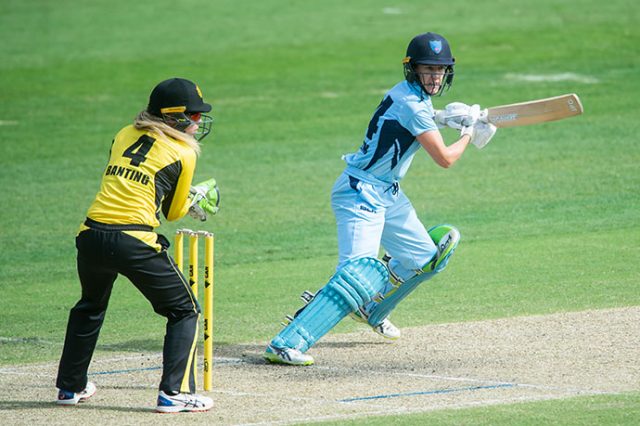 Lisa Griffith was introduced to cricket at the age of 5. Growing up in Bathurst, in central west NSW, sport occupied Lisa's time, and her love for cricket saw her feature in representative cricket teams through her teenage years.
In 2010, whilst juggling Year 12 exams and cricket, Lisa debuted for the NSW Breakers at the age of 18. A rapid rise through the ranks, the selection came as a surprise to Lisa as she took the field with some of her cricketing heroes.
"(It's amazing) when you debut, and you see the calibre of athletes around you and you see what they're capable of – the likes of Alex Blackwell, Lisa Sthalekar, Ellyse Perry and Alyssa Healy," Lisa said.
"You see the incredible things that they do and how you just want to be able to do that".
Shortly after, Lisa left the game of cricket. The pressures of work, study and being an elite athlete triggered a life-changing decision to leave her city-life behind and Lisa restarted her life on cattle stations in Queensland and the Northern Territory. Whilst many would view it as an uncharacteristic career move, leaving a sports career at the beginning, Lisa holds no regrets for the decision that she made.
"I just made this really rash decision that, I'm going to go up north to the outback of Australia and I'm going to get away from here and I'm going to get away from cricket", Lisa said.
"In hindsight, as much as it was a rash decision, it was probably the best one I have ever made and one that has led me down this path of growing as a person".
Five years later, back in Bathurst, an encounter with Penrith Cricket Club proved visionary. Joining the club provided the return to Women's Premier Cricket that many had waited for. Before too long, Lisa joined the extended NSW squad, which was followed swiftly by a contract with Sydney Thunder for WBBL|03.
The accolades continued for Lisa, when last September she became the 29th woman to captain NSW. A huge achievement and warranted reward for her commitment to the game, Lisa still maintained her humble ways whilst leading her state.
"For me, it's more reflecting on the women that have come before me", Lisa said.
"I'm just so fortunate to have stepped into a role there and so grateful that I get the opportunity to do that (captain NSW)".
Find out more in the latest episode of the Passion & Perspective Podcast, hosted by Jonathan Robinson-Lees.