A Glenmore Park man who choked his partner until she turned blue and fitted a tracking device to her car so he could monitor her movements has avoided full-time jail.
The 32-year-old fronted Penrith Local Court last Thursday and was sentenced for a string of serious offences, including 'intentionally choke without consent', 'assault occasioning actual bodily harm', 'knowingly install, use and maintain a tracking device without consent' and 'stalk/intimidate'.
The court heard the man, who the Weekender has chosen not to name to protect the identity of the victim and their children, became paranoid that his partner was having an affair and even engaged a private investigator.
On the night of the offence, the man just "snapped" and "lost it" his lawyer said, who also made it clear that the man's claims of adultery were unfounded.
Court documents reveal the violent and sustained attack began after the man returned home and suddenly began punching the woman to her face.
He then grabbed her around the throat and held her over the staircase railing.
When the victim ran to her daughter's room to escape, the man followed and continued to punch and choke her.
The entire incident was witnessed by the couple's 11-year-old daughter.
The court heard the relationship had now ended and the man had not had any contact with the victim, his daughter or nine-year-old son since the incident in October last year.
During sentencing submissions, the man's lawyer conceded the threshold for a custodial sentence had been crossed but successfully argued that an alternative to full-time custody was available for the first-time offender.
The man was handed a two-year Intensive Correction Order, otherwise known as a community-based jail sentence, and must comply with supervision.
He is also prevented from going within 100 metres of the woman and is subject to an AVO for his family's protection.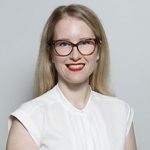 Alena Higgins is the Weekender's Senior News Reporter, primarily covering courts and Council issues.