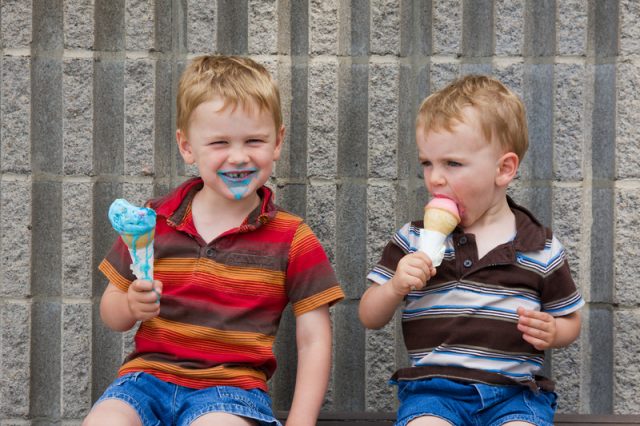 While winter has begun, the colder weather won't stop you from screaming for ice cream. Whether you have a cup or a cone, our picks will show you some of the top spots in the Penrith LGA where you can grab a sweet treat.
5. Norgen Vaaz (Westfield Penrith)
Tucked in as a part of Mrs. Fields Bakery, this simple ice-cream stand has all the flavours that have stood the test of time.
Classic ice cream lovers will enjoy the Old English Toffee, Cookies and Cream or Rainbow.
Take a scoop home and pair it with freshly baked cookies to make the perfect ice-cream sandwich.
4. Ben & Jerry's (Westfield Penrith)
While it is a little on the pricey side you can't go past Ben & Jerry's, especially for a treat like on a date night to the movies.
This American style ice-cream is very rich and over the top like their Phish Food flavour that features swirls of marshmallow and caramel with chunks of chocolatey shaped fish.
They also have a new range made with almond milk, so the non-dairy lovers don't have to miss out!
3. Gelato Messina (Westfield Penrith)
Messina got a lot of hype when it moved into Penrith and is still very popular.
This artisan gelato is made fresh in store from unique recipes that have you covered whether you are feeling like a sweet Dulche De Leche or a fruity Boysenberry.
With 35 permanent classic flavours including sorbet and five specials that rotate each week, there is always something for everyone.
2. Cold Rock Ice Creamery (High Street, Penrith)
Australian ice cream parlour Cold Rock is all about the extras and individuality which earns it a top spot.
It offers 3000 combinations of ice-cream, gelato and sorbet flavours with mix-ins that range from chocolate, biscuits to marshmallows and lollies.
You can have whatever you desire here and usually the weird and wacky combinations turn out the most delicious.
1. Scoops Gelato and Treats (Westfield Penrith)
A small stand, Scoops really is a hidden gem if you are after a drool worthy dessert.
Presented beautiful they have all the traditional flavours you know and love and then take it up a notch.
With flavours like Peppermint Chocolate, Bubblegum, Maltesers and Pistachio, you will have a hard choice choosing just one.
Better yet you can order a one litre tub with a mix of your favourites to enjoy from home.