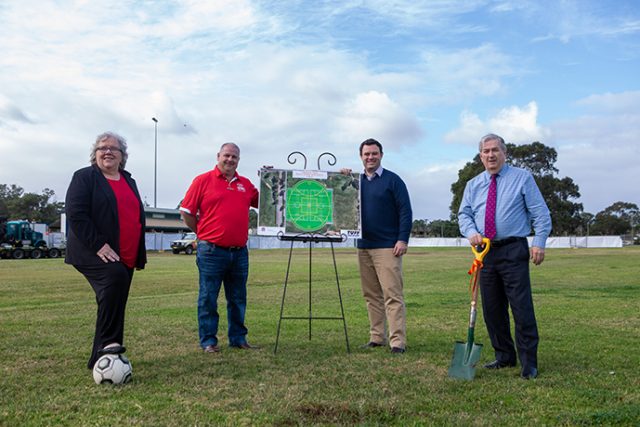 Work has started on a $3.7 million FIFA Standard multi-use synthetic sports facility at Jamison Park.
Once complete, the facility will deliver two synthetic rectangular football (soccer) fields, a cricket wicket and an AFL oval, along with a new pathway and smart technology LED floodlights.
The project forms part of Council's Sports and Recreation Strategy and is jointly funded by Council and the NSW Government through the Greater Sydney Sports Facility Fund (GSSFF), with a contribution from the Nepean Football Association.
Penrith Mayor Ross Fowler commended the NSW Government on its investment in the future of our City and thanked Penrith State MP Stuart Ayres for his continuing support.
"Jamison Park is the most highly used sporting facility in the Western City District, attracting around 300,000 visitors a year," he said.
"This all-weather facility will play a vital role in providing our community with the opportunity to enjoy an active lifestyle, now and as our City continues to grow."
The GSSFF Grant for Jamison Park was announced last year by Mr Ayres.
"Jamison Park is already a fantastic active space in the heart of Penrith," Mr Ayres said.
"The addition of a synthetic field will make it exceptional in terms of function and accessibility for the community."
The completed fields will allow for concurrent football matches, or eight games on small fields. It can also be used by local cricket teams, rugby league, AFL and schools.
Cr Fowler said synthetic playing surfaces are a more reliable and durable option for both Council, sporting groups and the community.
"As local sporting groups are well aware, the current turf fields at Jamison Park are susceptible to inclement weather and cannot be used when water-logged," he said.
"The upgrade to a synthetic surface will ensure sporting clubs and associations are less impacted by cancellations and can provide a more sustainable structure for their members."
In addition, the new surface will improve the sustainability of existing fields as well as allow sport to be played 7 days a week, 365 days a year.
"I am excited about the possibilities of this new facility, not just to increase participation in sport, but to attract a broader range of events and other activities to our City," Cr Fowler said.
Council expects the new facility to be completed by early 2021.