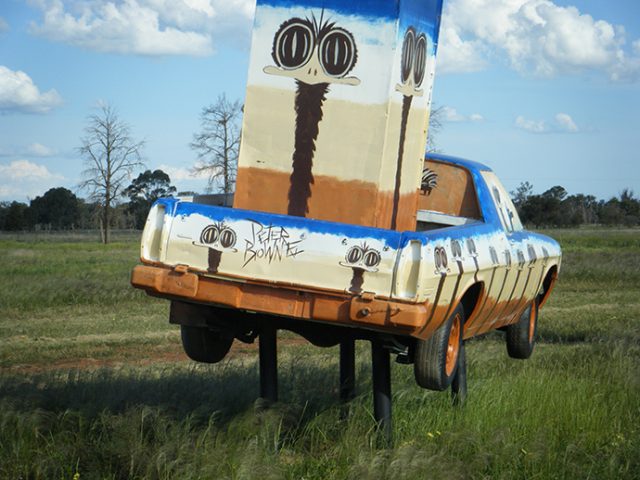 Lachlan Shire, just a few hours' drive from Penrith over the Blue Mountains, is the geographical centre of the state, the true heart of NSW.
A stone cairn marks the exact point, 42km west of Tottenham, on the eastern side of Cockies Road, 5km south of the Five Ways intersection.
Lachlan Shire has three towns – Condobolin, Lake Cargelligo and Tottenham – and several smaller villages, Tullibigeal, Albert, Burcher, Derriwong and Fifield.
After the recent lockdown, Lachlan is the ideal place to get away from the city stresses and literally stretch your legs whilst reconnecting with the land.
Lachlan Shire is nature's wonderland, boasting a wealth of exotic birdlife at hotspots like Lake Cargelligo with an array of migratory birds and resident species. To the north of the Shire is Tottenham with its own unique resident species, including many rare native parrots.
Whether you're interested in the rich pre-European history of the Wiradjuri people or European settlers, Lachlan's museums have something on display for all interests – from railway relics and printing history to the gold and copper strikes, war history, and the agriculture industry, including a working draught horse display.
Fabulous artefacts from early Aboriginal sites can be viewed at the Western Plains Regional Development Centre.
Aboriginal middens and ochre pits can be seen on the shores of Lake Cargelligo and at the Wiradjuri Centre there are traditional weaving and carving displays.
The Wiradjuri Centre is open weekdays and well worth booking a tour for the opportunity to gain a rare insight into this ancient local culture.
There are great historical pubs in Lachlan Shire, including the popular Rabbit Trap Hotel. Drop in for some genuine country hospitality and meet some of the local characters.
In Condobolin you will find the quirky, world-famous 'Utes in the Paddock' display of Holden utes painted up by renowned outback artists, including members of Midnight Oil and Mental As Anything.
At night, lie back and take in the vast blanket of stars overhead unimpeded by the city lights – Lachlan's sunsets are more than special too.
Pick up a trail map from the visitor centres and choose what you would like to see, with driving trails ranging from a few hours to several days depending on the time you have available.
Each of the trails has stops with places and points of interest for you to explore further.