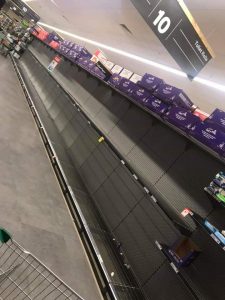 Woolworths has confirmed it will implement a purchasing limit on toilet paper to stop bizarre panic buying.
Stores across the nation – including locally – have been running low on toilet paper supply as Coronavirus fears spark mass purchasing.
A purchase limit of four packs per customer transaction will now apply in-store and online.
"It will help shore up stock levels as suppliers ramp up local production and deliveries in response to higher than usual demand," a Woolworths spokesperson said.
"Our teams are continuing to work hard on restocking stores with long-life food and groceries from our distribution centres.
"The vast majority of the products in our range remain available for our customers as normal. We apologise to customers for the inconvenience caused by temporary stock shortages and thank them for their patience."
Yesterday, Prime Minister Scott Morrison urged people to remain calm as more cases of the virus are diagnosed.
"It is important that people just go about their business and their normal processes in a calm manner," he said.