Cancelled events, a plummeting ASX and panicking residents.
It's too early to say just how big of an impact the Coronavirus is going to have on our local economy, but if one thing's for certain; small businesses will suffer.
As events like the Penrith Festival are called off and residents are urged to keep their outings to a minimum, the community now more than ever needs to support its local business owners, growers and makers, says Penrith CBD Corporation CEO Gai Hawthorn.
Ms Hawthorn said the CBD Corporation is working with its members to support them through this period of uncertainty but urged residents, especially young people, to shop local where they can.
"The repercussions of this, the enormity of this, is something that we cannot understand at this point, it's all hearsay but it's about that continued support and having the right information at hand," she said.
"We want local businesses to know that they aren't alone."
A new Lebanese style eatery, Pappa Charlie's Bakehouse, was due to open on High Street, Penrith, on Saturday.
Co-owner Albert Rahme said they fear its success will be severely impacted by the virus.
"Our grand opening was meant to be at the time of the CBD Festival but now we just have to play it by ear and see if people are still out on High Street but we don't know what could happen," he said.
"If we go into lockdown or people can't leave their homes it will impact us dramatically so we're going to have to try and find different avenues and we've already been looking at Uber Eats to cater for that."
Even for bigger businesses like Panthers, the impact has the potential to be catastrophic. CEO Brian Fletcher said the club is concerned about how Coronavirus will affect both the leagues club and National Rugby League franchise.
"It's going to be drastic club-wise and football-wise, we're just working through the issues, we've got a very large staff that we've got to protect but we need people to continue to visit the club for sure," he said.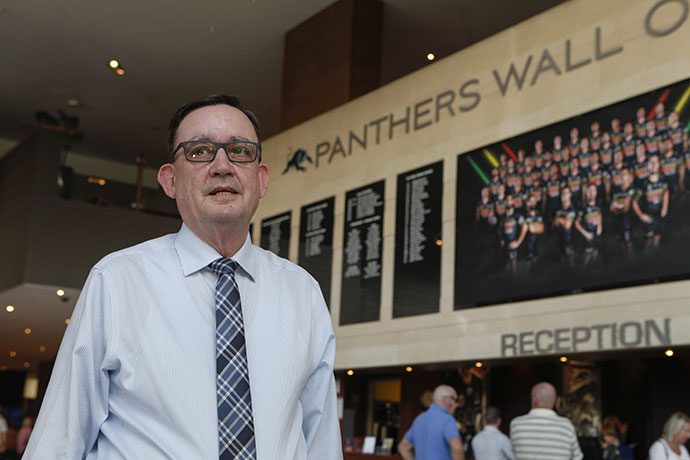 Mr Fletcher said extra hygiene measures have been implemented, however they won't follow Crown Melbourne's footsteps of turning off every second gaming machine until the government recommends them to do so.
But it's not just our businesses that will suffer, with not-for-profit groups and charities also feeling the impacts of the outbreak.
"Relay for Life and even the Biggest Morning Tea are now having to consider what they are going to do, this is a massive chunk of their funds," Ms Hawthorn said.
"Penrith Community Kitchen are also struggling, our volunteers are all in their late 70's, that's going to put themselves at risk and we also rely on local fundraising and the generosity of schools but without that the bills go up and the money doesn't come through."
Mama Lana's Community Kitchen has made changes to their operations from Monday, March 16 until March 30 as a result of the virus.
This will involve limiting volunteers, adjusting operating hours and closing their dining areas, offering take away meals instead.
As we enter a stage of economic uncertainty, residents are encouraged to support local businesses and each other. Penrith CBD Corporation has suggested voucher buying as a way to inject money into the local economy.
"We will get through this but in the meantime it's funds in their pocket so that their staff can feed their families," Ms Hawthorn said.
"This is about people and their livelihoods."
A graduate of Western Sydney University, Nicola Barton is a news journalist with the Western Weekender, primarily covering crime and politics.