We know mould is bad for our health, but it could be hiding in our homes and harming our family without us even knowing.
The recent weather has provided the perfect conditions for mould to grow in our air conditioning systems, with experts warning that a good clean or professional service should be on your to-do list.
Lower Mountains Air Conditioning Co-owner, Anthea Strathdee, said her business has seen an abundance of mould growing in air conditioning units.
"With the drought it has been so dry so dust and dirt can get in, then with the humidity and rain all the trapped particles turn wet which creates mould," she said.
"People aren't cleaning their filters regularly and aren't noticing until their machines aren't working or cooling properly which is when our technicians are finding mould."
Glenmore Park Medical Centre family doctor, Adrian Sheen, said breathing in mould can cause a lot of health issues both short and long term.
"Mould needs moisture and heat to grow and this time of year always has those weather conditions, but we have had a particularly bad year with dust from drought and bushfires," he said.
"If air filters in air conditioners aren't clean this can spread the mould and cause issues for people and aggravate things such as allergies, asthma, lung conditions and respiratory problems."
Ms Strathdee recommends regular cleans that will not only be better for your family's health but also the health of the air conditioning system.
"You are breathing in the air that the machine is pushing out, so you want it to be clean plus if they are blocked, they are working harder and costing more money to run," she said.
"It depends how often the machines are used but we recommend people take their filters out every month and give them a wash then get a deep coil clean every 12 months to a few years."
All systems could be affected, so Ms Strathdee recommends keeping an eye out.
"It doesn't just go for split systems, there are ducted systems that the same thing can happen to so try to look regularly and carefully as you might not see it straight away," she said.
"If you do see mould present or think you might have it then definitely contact a technician for a coil clean."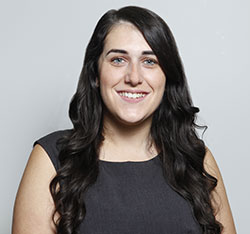 A graduate of Western Sydney University, Emily covers community news and entertainment for the Western Weekender.