A man who descended into violence when he was asked to leave two Penrith pubs has been jailed for at least 11 months.
Alexander David Brember muttered "wow" as the reality of his lengthy custodial penalty seeped in when he faced Penrith Local Court via videolink for sentence last Thursday.
The court heard the separate offending occurred just 12 days apart last December, with Magistrate Janine Lacy highlighting their remarkably similar facts.
On each occasion, the 28-year-old lashed out when he was asked to leave the licenced premises, with the December 1 offence seeing him punch, kick and headbutt a glass door attempting to gain re-entry.
He then moved onto a fast food restaurant along High Street just after 8pm, knocking over drinks and repeatedly swearing and demanding his food in the presence of young children, who became scared and upset prompting their parents to remove them from the store.
12 days later, he refused to leave another Penrith establishment, and was taken down by fellow patrons after he threatened the manager, but not before punching a hole in the wall.
When police attended, the father-of-two was aggressive and argumentative and challenged them to a fight.
The second offence was aggravated due to the offender being on bail for the first incident.
Magistrate Lacy said community safety was "paramount" and outweighed Brember's need for alcohol rehabilitation.
She noted matters of violence, damage property and intimidation already appeared on his record and he had been afforded suspended jail sentences in the past – including being on an Intensive Correction Order for mid-range drink driving at the time of the fresh offending.
He was sentenced to an aggregate term of 18 months with an 11-month non parole period and fined $1,950.
He is eligible for release on parole on November 11.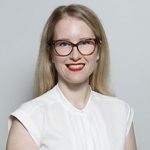 Alena Higgins is the Weekender's Senior News Reporter, primarily covering courts and Council issues.