Everyone has a Coronavirus story, and for Cranebrook resident Amanda Coleman it's one of a dream holiday now likely to be cancelled.
Ms Coleman has a holiday booked with a friend in May, visiting Europe with renowned travel company Contiki to celebrate finishing her Bachelor of Natural Science.
"Contiki has suspended all their trips due to depart before April 30, so as ours was starting a week after these and the virus is still spreading, we think it's most likely to be suspended," Ms Coleman said.
"They have done regular updates on their site which has been super helpful, and we've been keeping an eye on the Smart Traveller website, but with more countries announcing they are isolating we will have to re-book."
With the changes to her plans, Ms Coleman said she will be out of pocket as a result.
"Contiki has waived fees to reschedule so we can change that but our flights and a train trip we booked are up in the air plus a hotel we booked actually charges you the amount of your booking to cancel," Ms Coleman said.
"I am counting myself lucky though because I know some people will lose the majority of what they've paid because insurance won't cover it."
While Contiki isn't offering refunds but rather transferring people onto different trips up until December 31, 2021, Ms Coleman is hoping that the outbreak is contained so she can make the trip.
"I know our experience would've been impacted so we are hoping it might be better by February next year when we plan to re-book but no one can predict the future," Ms Coleman said.
"If it is better by then there is also the fact I am hoping to find a new job now that I am ready to graduate so that may be another thing which will hinder what was meant to be the trip of a lifetime."
Meanwhile, the Department of Foreign Affairs and Trade (DFAT) on Tuesday issued advice recommending Australians abroad who wish to return home do so as soon as possible given the current situation.
Australians who are overseas & want to come home are advised to do so as soon as possible by commercial means. Transport options will likely become more limited as countries respond to the #COVID19 outbreak & @dfat's capacity to provide consular help may be limited.

— Marise Payne (@MarisePayne) March 17, 2020
"As more countries close their borders or introduce travel restrictions, overseas travel is becoming more complex and difficult," the DFAT advice read.
"You may not be able to return to Australia when you had planned to.
"Consider whether you have access to health care and support systems if you get sick while overseas. If you decide to return to Australia, do so as soon as possible."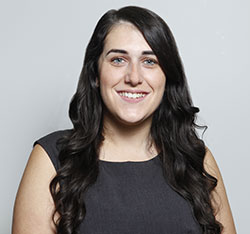 A graduate of Western Sydney University, Emily covers community news and entertainment for the Western Weekender.