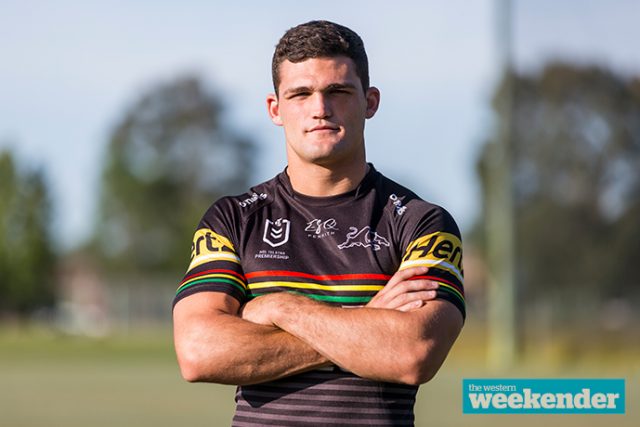 The great American football coach Vince Lombardi once said, "the achievements of an organisation are the results of the combined effort of each individual".
And so we arrive at the start of the 2020 NRL season, a year that for Penrith will be defined by individual effort, growth and performance.
It will be defined by a coach who needs to return to Finals football to prove his credentials to the wider NRL world. It'll be defined by a halfback with superstar qualities, who some still doubt. It'll be defined by young talent, all with a mark to make on the game of rugby league. Some will thrive, others will fall – not ready, not good enough, wrong attitude.
Having played Finals football in 2016, 2017 and 2018, missing the post-season last year left a sour taste in the collective mouths of fans, sponsors, players and everyone who has Panther Pride running through their blood.
But the past is just that, and as the season creeps closer there is a growing confidence around Penrith that this team could do something special in 2020.
Two Clearys, two points to prove
Much of the focus will be on coach Ivan Cleary and his halfback son, Nathan.
We all know the story of Cleary Snr's return to Penrith last season. It was messy, confusing and disruptive.
But listen to Cleary speak and you understand his passion, drive and commitment to Penrith. He took time to find his feet last year, but you get the feeling he is at home in 2020. This is where he belongs.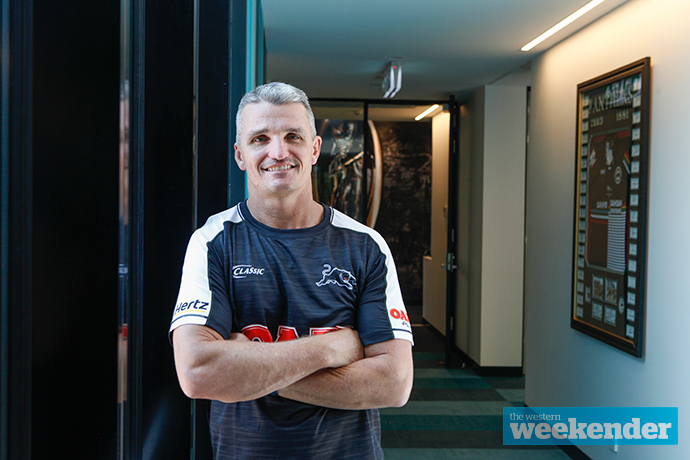 Ironic, then, that he's actually moved away from Penrith itself, removing himself from the community that now means so much to him.
Talk to those in the know and they'll tell you that's made a positive difference in his world. Leaving the bubble and giving himself the time to think, plan and liaise on those drives back to the Northern Beaches, has given him the clarity that was perhaps missing a little in 2019.
Still, there are doubters. And doubters are best silenced by success and in this case, a return to Finals footy.
As for Nathan, we've heard it all off-season: this is his team now.
For whatever reason, Cleary's combination with James Maloney never really clicked at club level. With Maloney now gone, Cleary gets to take control.
Cleary has achieved more than anyone expected at this stage of his career. Ivan freely admits he wouldn't have debuted in 2016 had he still been the coach. It's unlikely anyone would have predicted his rise to the NSW jumper so early, either.
All of that creates pressure, which on the surface he handles with ease; thanks to a cool head and calm attitude.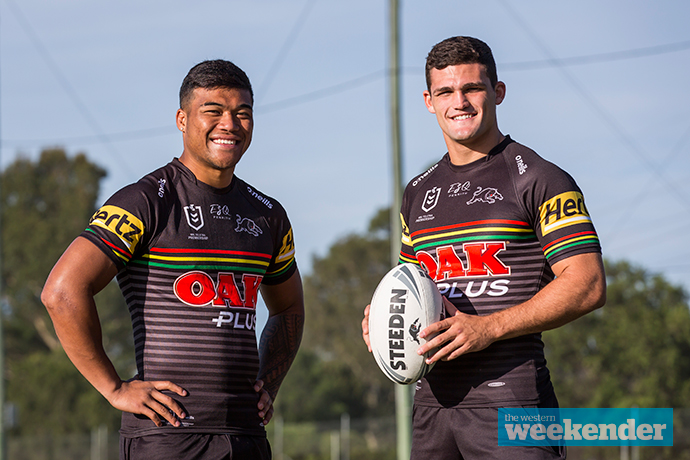 Now, all of that expectation, all of that ability, all of that attitude, must come to the surface. This is the year Cleary must announce himself as one of the game's leading playmakers.
Young talent on the cusp of greatness
There are names in Penrith's top 30 squad that the rugby league world barely knew 12 months ago.
We're talking about the likes of rising stars Brent Naden, Brian To'o, Matt Burton, Liam Martin and Mitch Kenny.
After their introduction to the NRL in 2019, this season becomes one of risk and reward.
The risk? The potential for second year syndrome that has haunted rugby league players since 1908.
The reward? The chance to make 2020 the breakout season that has the potential to change everything.
To'o played 15 games last season, his acrobatics and bright attitude a welcome sight in an otherwise disappointing season overall.
Naden has played just 12 games, and I admit to having my doubts about this kid, but his work in the pre-season trials has given a strong indication that he'll only improve in 2020.
If Penrith have success this season, it'll come down to the likes of To'o, Naden, Burton and Martin really making their mark on the competition.
Standout seasons from a couple of these guys and you suddenly have a football team that is rising in capability and the youth and stamina to sustain it.
And then there's Viliami Kikau
When you talk of individuals, there is perhaps none bigger at Penrith then Viliame Kikau.
This man mountain just gets better every time he puts on a Penrith jersey, and he showed in the Nines back in February that he's fit, healthy and ready to make an impact on the season ahead.
Kikau is no longer a rookie on the rise, he's a fully fledged first grader who now has more than 50 NRL appearances to his name, representative honours with Fiji and, it would appear, is now starting to accept just how good he can be.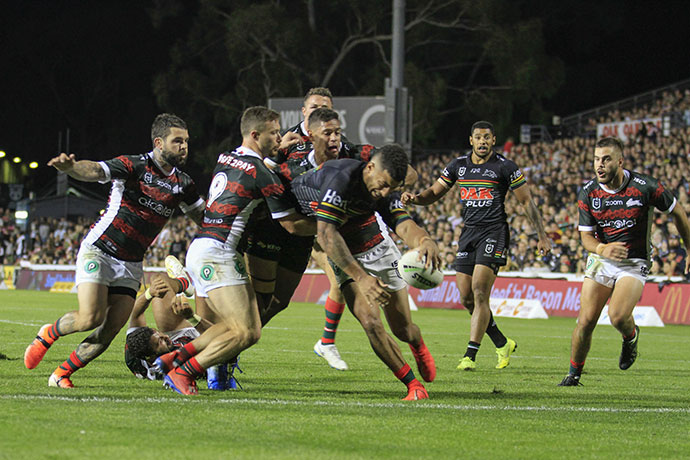 He is an absolute wrecking ball, and Penrith's success in 2020 will be largely dependant on him remaining on the field and in a strong, healthy state.
It is no secret that Penrith's left-side attack will see plenty of ball this season, and Kikau will be a huge part of that.
Teams will try to stop it but as he proved in the Nines, there's days that Kikau will be too strong for even the smartest or toughest of defensive lines. He is a key component to Penrith's chances of success in 2020.
New recruits will make an impact
There are plenty of people around the club who want to tell you, largely off the record, that Api Koroisau will prove to be the buy of the season.
And after seeing him emerge as a truly good hooker at Manly in the last four seasons, where he played 77 first grade games, who would disagree?
There is no question the Panthers have struggled for consistency, speed and agility from the number 9 jumper for a couple of seasons now.
Peter Wallace was hampered by injury towards the end of his career, ultimately forced into a premature retirement.
Sione Katoa never really reached any great heights, and for many was a source of great frustration, while Mitch Kenny showed enormous potential but perhaps isn't quite ready for the week-to-week, 80 minute slog just yet.
Koroisau looked good at the Nines and in the trial against Parramatta, and could well meet those pre-season expectations.
Zane Tetevano comes to the club with premiership experience in his back pocket, having been in the Roosters system for the last three seasons.
There is little doubt the New Zealand international adds some toughness to Penrith's forward pack, particularly given the departure of Reagan Campbell-Gillard at the end of last season.
He comes to Penrith with a few marks on his record in relation to off-field incidents, but there is a feeling that Trent Robinson has worked wonders with the 29-year-old over the past few years.
He promises to be a strong addition to a Penrith forward pack that was desperate for some aggression and experience.
Kurt Capewell comes to the Panthers after four years with Cronulla, and like Tetevano gives coach Ivan Cleary more options in his forward pack, though most would agree he's unlikely to be in the starting side.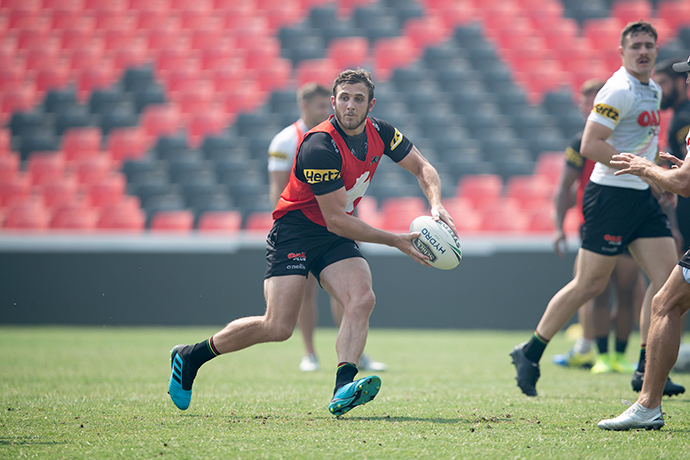 The bench was where Penrith started to lack some depth last season, and Capewell will be a much-welcome addition in that space.
While Penrith lost a chunk of players at the end of last season, overall you'd have to say the side has recruited well. All three players have tasted success, but not one of the recruits would see the switch to Penrith as a retirement contract. All still have something to prove.
May's chance for redemption
After a year out of the game following a much-publicised off-field drama, Tyrone May comes into 2020 with a refreshed attitude and the chance for redemption.
Plenty didn't want to see May in a Penrith jersey ever again, but when he scored a try against the Tigers at Panthers Stadium in a pre-season trial in February, there was a sense of forgiveness in the applause.
May would know he has his work cut out for him, both to perform on the field after sitting an entire season out and to win back a disappointed fan base.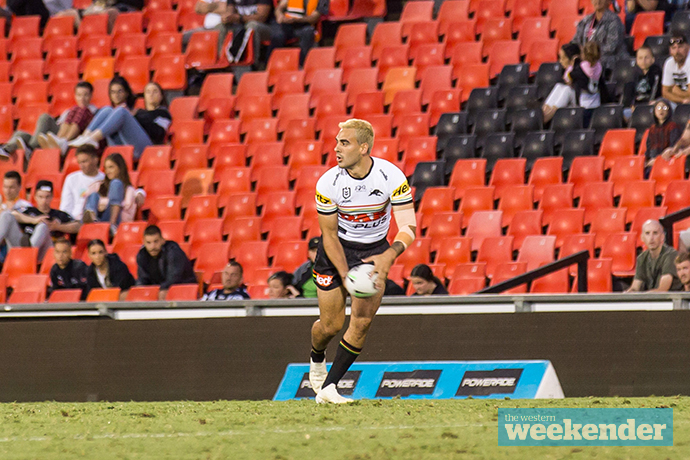 Penrith missed his utility value during the 2019 season, and there's little doubt he'll become very handy at some point during the season.
May is a talented footballer and took a very serious wrong turn, but he still has plenty to offer this game and this club, and given he's off-contract at the end of the season, there is every chance he could produce a season to remember in 2020.
Mansour's last stand
The story nobody wants to talk about at the moment is Josh Mansour.
He's loved around Penrith, and enters his ninth year with the club in 2020.
The 29-year-old winger admitted in the off-season that 2019 was a tough season, hitting rock bottom and even playing a stint in reserve grade.
In the end, he scored only one try and question marks were raised about his future at the club.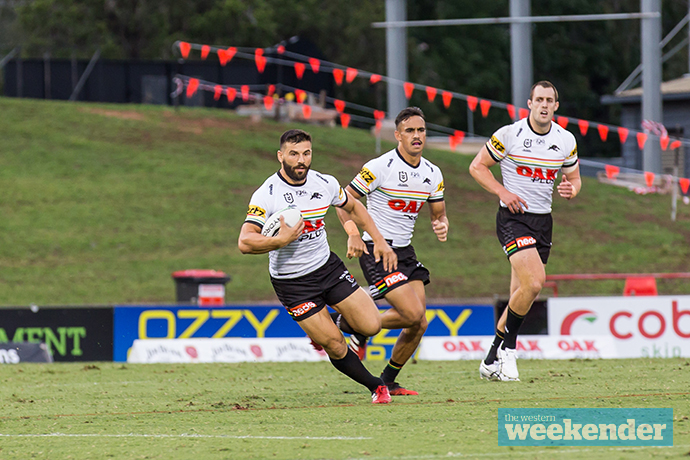 Mansour will most likely be given the chance to prove himself as a starting winger when Ivan Cleary names his side to take on the Roosters next week.
But with Steven Crichton breathing down his neck, Mansour doesn't have unlimited time to prove himself.
Hopefully Mansour can re-capture some career-best form in 2020.
Fish ready for season of his life
Very few people were surprised when James Fisher-Harris won the Merv Cartwright medal last season.
He enjoyed a dynamite year despite Penrith finishing outside of the Finals, and even emerged as a potential captain for the 2020 season.
In the end, Ivan Cleary has stuck with James Tamou as the side's official captain this season, but there is no doubt he'll be asking Fisher-Harris to show more leadership on and off the field this year.
Fisher-Harris, who has already played Test football with New Zealand, will play his 100th first grade game at some stage this year but remarkably is still 24-years-old and has his best football still ahead of him.
The 'fish' will be one of the must-watch players in 2020 and is fit and raring to go after a 2019 season in which he played all 24 games.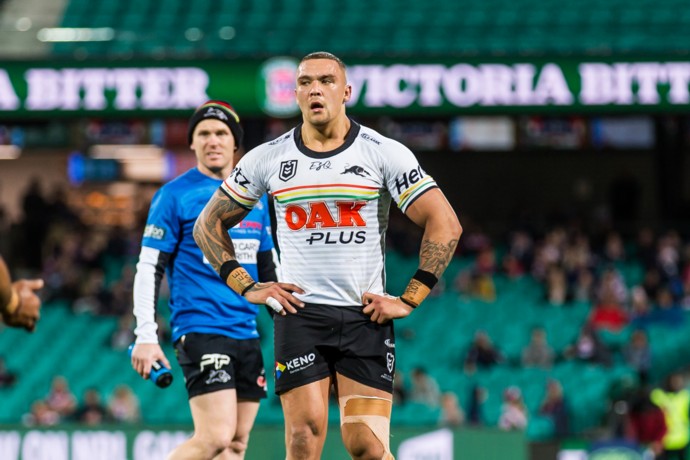 Draw offers tough initiation
You only know how good you truly are when you face the best opposition, and in Penrith's case the answer to what 2020 has in store could come very early.
The Panthers face defending premiers the Roosters in the first round, then take on a highly fancied St George-Illawarra at Kogarah in round 2.
Then it's a dreaded trip to AAMI Park to take on Melbourne, followed by games against Brisbane and Ricky Stuart's Raiders at Panthers Stadium.
By the time round 5 comes around Penrith will have played three of the teams that finished in last year's top four.
Whenever you study a draw you look for runs of potential wins, periods that could define the season, and for me that comes in rounds three to five when the Panthers have three straight home games.
Come away with wins in those clashes against the Broncos, Raiders and Tigers and all of a sudden Ivan Cleary's men will emerge as top four candidates.
The final word
The closer the season gets, the more belief I'm feeling around this squad.
The top four may be a tough ask, but there really is no excuse why Penrith can't return to the Finals in 2020.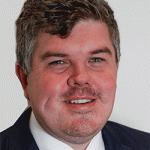 Troy Dodds is the Weekender's Managing Editor and Senior Writer. He has more than 15 years experience as a journalist, working with some of Australia's leading media organisations.