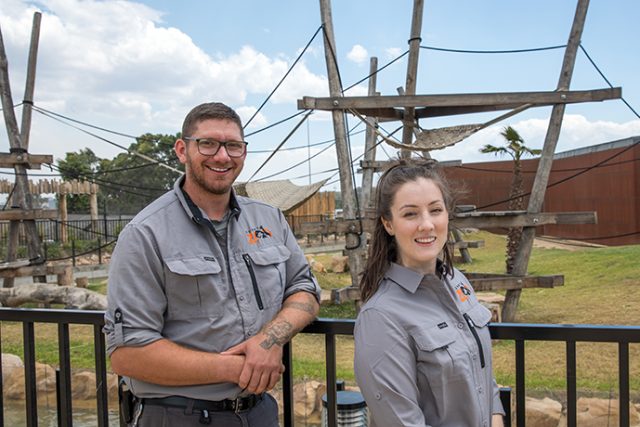 The highly anticipated $45 million Sydney Zoo will officially open its gates this weekend, with many local workers excited to embark on their new careers.
Some of the newly employed Penrith residents include 28-year-old Lee Reid, who will be taking on the role of junior zoo keeper, and 26-year-old Lara Summerville, who will be working in administration.
Mr Reid has been heavily involved with the zoo since its early stages of development and said it will be an asset for both jobs and tourism in western Sydney.
"Originally my role was in the construction team where I was helping to build and maintain the habitats," he said.
"I was then lucky enough to move to a junior zoo keeper role within the primate team where I will conduct all sorts of primate husbandry duties and enrichment building."
Mr Reid has a Certificate III in Captive Animals and said he has always dreamed of one day becoming a zoo keeper.
"I'm surrounded by people of all backgrounds and experiences, so I love that the ability to learn and improve my knowledge is so readily available," he said.
"Working with animals has been something I've wanted to do since I can remember and to see such an amazing zoo be built in western Sydney, I knew I had to be a part of it."
Sydney Zoo, located at Bungarribee in the Blacktown area, is the first major zoo to be built in Sydney for more than 100 years.
It will feature over 30 exotic exhibits including lions, tigers, bull sharks, cheetahs and gorillas as well as an extensive range of native Australian animals.
Ms Summerville is a strong advocate for animal welfare and conservation and said Sydney Zoo's commitment to this made her eager to apply for the job.
"I thought it was a really exciting opportunity to be able to work for a project that makes a difference to the lives of animals and humans," she said.
"I felt very lucky to be offered such a unique opportunity and I couldn't wait to get in and start to become a part of such an exciting project and passionate team."
She said the team are confident the zoo will become a success and emerge as a major tourist attraction.
"I think Sydney Zoo will be a landmark for western Sydney," she said.
For more information or to purchase tickets, visit sydneyzoo.com.
A graduate of Western Sydney University, Nicola Barton is a news journalist with the Western Weekender, primarily covering crime and politics.