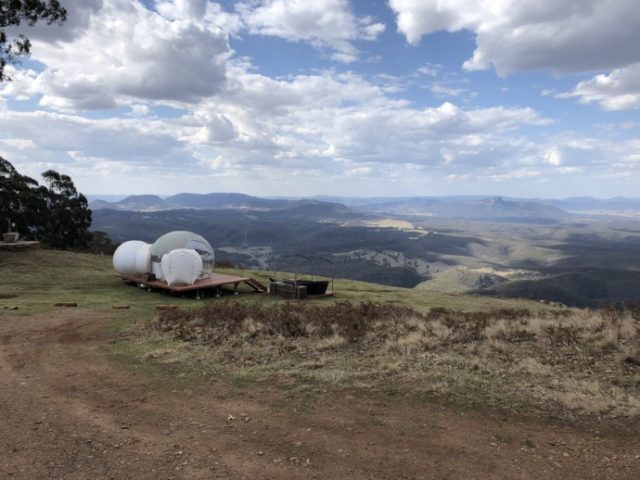 If you love mother nature, stargazing and a touch of camping – or should I say glamping – then staying overnight in a Bubbletent in the middle of nowhere is probably for you.
Recently, my fiancé and I travelled two-and-a-half hours west of Penrith to spend a night under the stars. While sleeping outdoors isn't our usual thing, we jumped at the chance to experience one of the most unique glamping set-ups we've ever seen.
Bubble origins
Bubblehosts Sonny and Mayu's Bubbletent journey began several years ago on a trip to Lake Tekapo, New Zealand – one of the best places to stargaze on the planet I'm told. After witnessing an incredible meteorite shower one night the pair were hooked, and desperately wanted to find a spot back home in Australia that provided a similar wonderment – not just by night but by day as well.
The search ended when Sonny and Mayu found a slice of splendour overlooking Capertee Valley – the widest canyon in the world and a mecca for birdwatchers. And so Bubbletent Australia was born.
Getting there and location
My partner and I set off on our Bubbletent journey at about 11am and, after a quick pitstop in Lithgow to get some supplies, arrived in time for our mid-afternoon check-in.
The exact location of the Bubbletent Australia property is a closely guarded secret but it's roughly midway between the country towns of Lithgow and Mudgee (don't worry, in the weeks leading up to your stay, they'll give you the exact coordinates). When we finally arrived at our Bubbletent, we were greeted with fresh air, breathtaking views and a flock of sheep from the working farm that's also part of the property. We felt like we were a million miles away from home.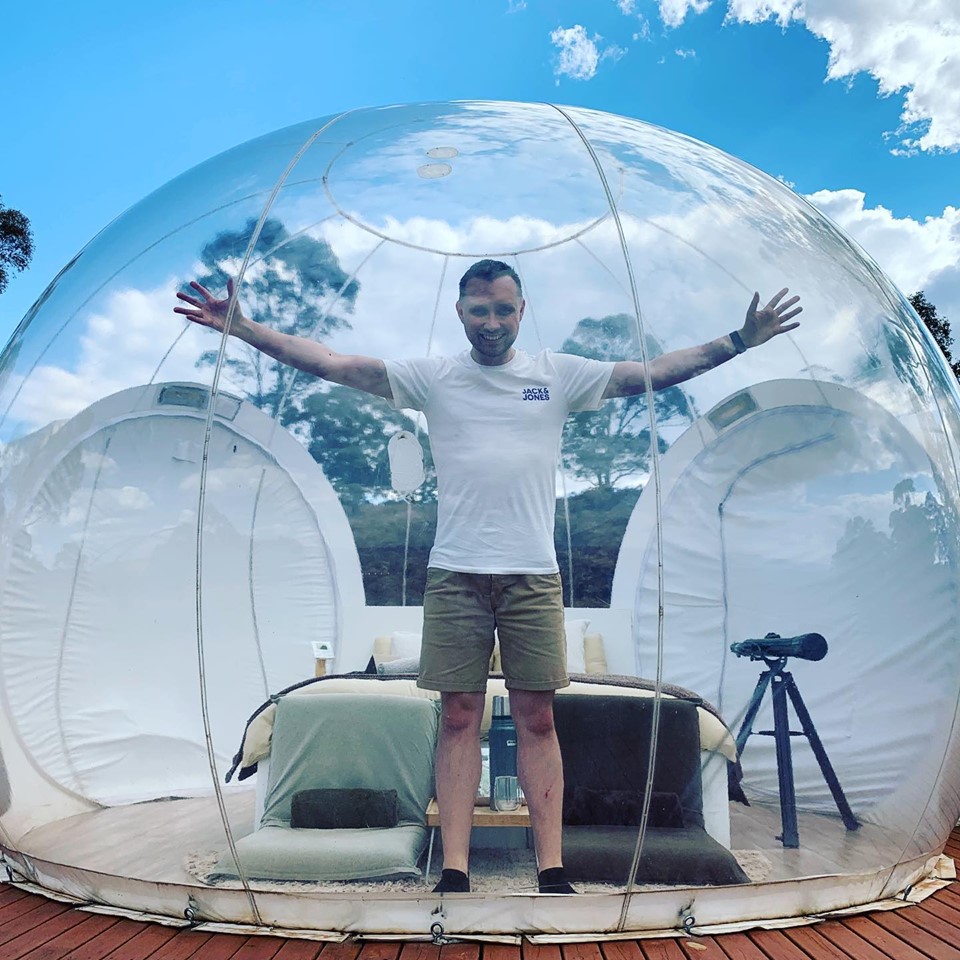 The glamping experience
My partner and I have been together for more than 13 years, we've travelled all over the world but have never camped with one another before. Fortunately for us our first camping experience was more glamping than Bear Grylls. When we unzipped our gateway to our bubble, we immediately began our 'room tour'. Inside was a comfy bed, telescope for stargazing, binoculars for bird watching, tablet with music, a hot water thermos along with T2 tea, a small chillout space and a handy eye mask for the morning sun.
Attached to the main bubble was a separate bathroom that included a pump tap, mirror and compost toilet which, instead of flushing you scoop a generous amount of sawdust to bury your business with – that's an interesting experience in itself!
Once we got acquainted with our room, I mean bubble, we decided to step outside and check out our surroundings. Close by we found a decked outdoor area to relax, fridge to keep our ciders cold, fire pit for cooking, love swing, wood-fired bathtub and rinsing station. If you could camp (or glamp) on Mars, this would be it!
Handy tips
While your Bubbletent site has pretty much everything you need for a comfortable stay (like some very handy fire starters), they do not provide you with food aside from a sneaky jar of marshmallows. So, to avoid a hunger meltdown, pack as much food, drinks and snacks with you before you leave. We stopped off at the Woolworths in nearby Lithgow for our bacon, eggs and pancake mix.
Another good tip is to bring some games, reading material or an iPad to pass the time. While there's some amazing hikes you can do around the property as well as bird watching during the day, the nights can get a tad tedious if you're used to being stimulated by technology.
Surprisingly, there's decent phone reception on site, so logging into Netflix shouldn't be a problem.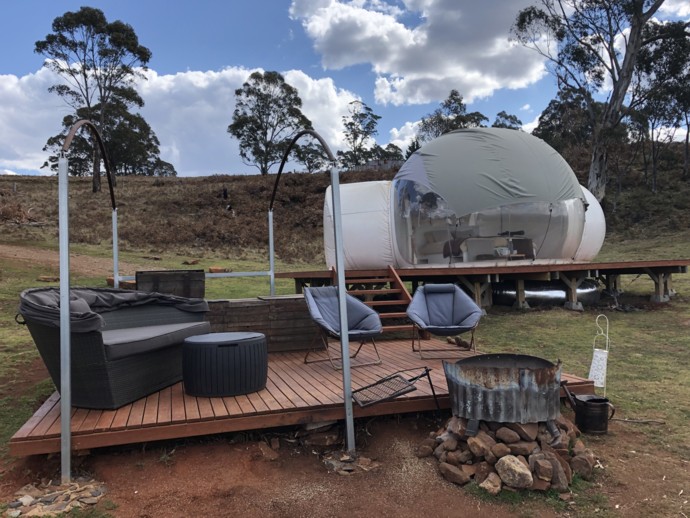 Final word
Lastly, there are three Bubbletents on the property – Virgo, Cancer and Leo – and each vary in price per night depending on their size and features. I recommend the bubble we stayed in, Virgo. It's a little pricey but it includes air conditioning unlike the other two.
Due to their size, Bubbletents are perfect for couples looking for a unique romantic adventure 'off the gird'. So why not make your friends and family super jealous by staying at a Bubbletent on your next getaway.
For more information, visit bubbletentaustralia.com.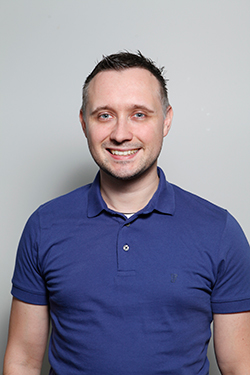 Nathan Taylor is the Weekender's Deputy Editor and Senior Sports Writer. He also compiles the weekly Chatter on the Box TV column. Nathan is an award-winning journalist, who has worked at the Weekender for a decade.