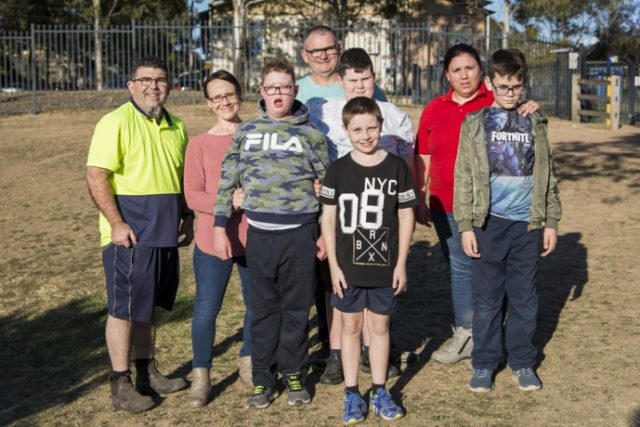 Parents of primary school children with disabilities are being left in limbo, as they are turned away from high school support units that simply don't have room for them.
Glenmore Park Public School's additional needs classes had only one of seven children accepted into Glenmore Park High School's support unit.
Parents have been told there are only three positions left, which are also needed by children from Surveyors Creek and surrounds.
Glenmore Park mother of three, Rebekah Hewitt, fears for her son, Brayden, who has been given no direction of where he will go to high school next year.
"That transition from primary to high school is hard for any kid, especially one with Autism Spectrum Disorder," she said.
"They want to go to school with their friends in their area and they should have the right to do that, like any other kid."
Brayden thinks he will go to Glenmore Park High School like his big sister, but that may no longer be the case.
Ms Hewitt has been advised that he should receive placement by the end of the year, although this could be anywhere from Blaxland to Oran Park.
By the time she receives a definite answer, she will have very little time to transition him and the school will most likely be closed for the holidays.
Craig McManus' 12-year-old son, Declan, is also in the support unit and said the stress and uncertainty is unbearable.
"We have to prepare our children for every single thing every single day and once that routine changes you've got to prepare them again, it's already really hard and I'm not trying to cry 'poor me' because you get used to it as families, but if we don't know where they will be going to school, how are we supposed to prepare them?" he said.
Shadow Minister for Education, Prue Car said with the booming population in the region, it's the State Government's responsibility to ensure there is room for these children locally.
"The Government has to provide answers to these families and provide placements as a matter of serious urgency," she said.
A spokesperson from the Department of Education said they are working to provide appropriate support class options for identified students.
"The family, primary school and high school will collaboratively develop individualised transition plans for each child once their high school placement has been confirmed," the spokesperson said.
They encourage families to raise their concerns with the Principal or seek additional support from the School Services team at the Department's Nirimba Office.
A graduate of Western Sydney University, Nicola Barton is a news journalist with the Western Weekender, primarily covering crime and politics.