Roads and Maritime Services has released an artist's impression of the sprawling M4 interchange at The Northern Road.
Once complete, the massive new-look interchange will feature eight multi-lane ramps, two dedicated bus lanes and one less traffic light to contend.
It will also break records – taking the cake as the largest single point intersection in Australia, stretching 35 meters kerb-to-kerb and 120 meters long.
The improvements form part of a $1.6 billion overhaul of The Northern Road between Old Northern Road, Narellan and Jamison Road, South Penrith, which the State Government is undertaking in six stages.
Stage 3, between Glenmore Parkway, Glenmore Park and Jamison Road is progressing well, a RMS spokesperson confirmed, with the four-kilometere stretch of road expected to be completed in 2020.
Local motorists will notice a range of changes, most notably the number of lanes.
The section of road between Glenmore Parkway and Jamison Road will be widened to include three general traffic lanes and one continuous bus lane in each direction, helping to ease traffic congestion.
Other improvements include more turning lanes at intersections, a shared bike and pedestrian path, new footpaths, landscaping and lighting, a wide, landscaped central median strip and new traffic lights – one of which will replace the existing roundabout at Glenmore Parkway.
Two, five-metre noise barriers will also be installed along the western side of the road between the M4 and Aspen Street, South Penrith, while new traffic lights will be added on Aspen Street to control traffic during peak hours only, with a roundabout operating at other times.
Residents south of the M4 interchange will also see change, with work currently underway to widen the Glenmore Parkway intersection, while the heavy vehicle inspection bay will be moved slightly south near the Bradley Street intersection as part of the upgrade between Littlefields Road and Glenmore Parkway.
Cross Road is also receiving treatment to connect it to Homestead and Wentworth roads.
The Northern Road upgrade between Mersey Road, Bringelly and Glenmore Parkway will eventually divert The Northern Road around the Western Sydney Airport site and around Luddenham town centre.
The whole 35 kilometere project is expected to be completed in 2022, weather permitting.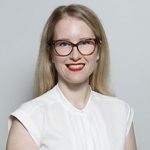 Alena Higgins is the Weekender's Senior News Reporter, primarily covering courts and Council issues.