There is nothing nicer than having a cuddle with a cute dog to make you feel better.
Nepean Therapy Dogs has been doing just that for 26 years, providing emotional and mental health support to vulnerable people in western Sydney and the Blue Mountains.
General Manager Paula Smith told the Weekender of the work the dogs do in hospitals, nursing homes, schools with children with behavioural challenges, and assisting witnesses giving evidence in court.
"The dogs we select are particularly calm dogs, who are interested in engaging with people, so they are very good at quickly creating connection for people," Ms Smith said.
"For people that love dogs or semi love them there is a connection that really helps them relax and there is scientific evidence to show blood pressure drops, people calm, so the dogs obviously do have an impact on people."
The group does offer some free services so relies on fundraisers and donations. They have been sponsored by Penrith Valley School, Helloworld Travel along with Nepean Motor Group and Excite Motorsports to continue their work but are always after more donations.
"In our training centre we have our training room with a mock hospital set up so that we can train our dogs to safely connect with people who are not well," Ms Smith said.
"Because we have our training facility, we have running costs and it costs a lot of money to facilitate our volunteers and train them, so we are always looking and open for donations and sponsors to support us to keep us operating."
The charity is also looking for more volunteers to join its team to expand its services for those in need.
"Volunteer-wise we are always looking for more people with calm dogs who like connecting with new people because we do want to expand our volunteer base to visit more schools and other people who are vulnerable and can use a way to help them heal," Ms Smith said.
"We are also looking to build support with Western Sydney University so we are opening an invitation to speak to them if they would like our services for their students."
For more information about Nepean Therapy Dogs, visit www.therapydogs.com.au.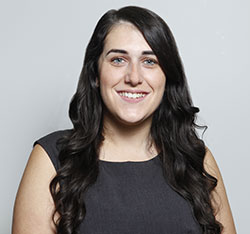 A graduate of Western Sydney University, Emily covers community news and entertainment for the Western Weekender.