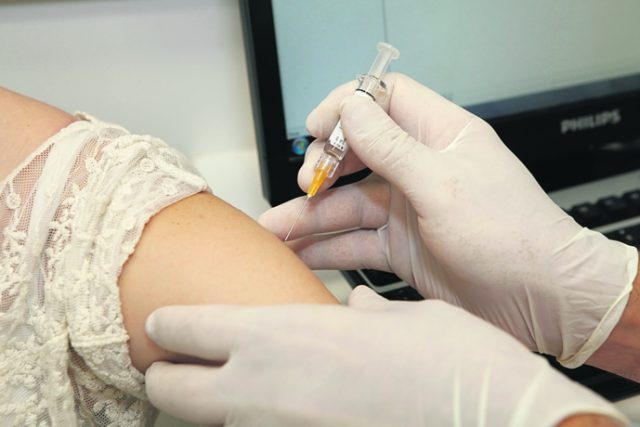 With a huge influx of influenza cases this year, health professionals are urging the Penrith community to get immunised before it's too late.
So far 462 notifications of influenza have been recorded in Penrith, in comparison to just 51 notifications at the same time last year.
Over the past few months about 30,400 local residents have received the vaccination but, with the cold weather now here, those who are yet to offer up their arm are being reminded to get in quick.
Nepean Blue Mountains Local Health District Director of Public Health, Associate Professor Bradley Forssman, said it's important to not only protect yourself but to prevent spreading influenza to other people.
"Getting a yearly flu shot is one of the best ways to protect yourself from the flu," he said.
"Other ways to help stop the spread of colds and flu are to stay home from work or school when you're unwell, avoid visiting elderly relatives when you're sick, washing your hands regularly, using tissues and sneezing into your elbow not your hands."
To date this year there has also been two reported outbreaks of influenza in residential aged care facilities in the Penrith region.
Associate Professor Forssman said free flu vaccinations are available to many people in the community.
"In NSW, free flu vaccines are available for pregnant women, Aboriginal people, those aged over 65, children aged six months to five years and anyone with medical conditions such as asthma, diabetes and heart disease," he said.
Free flu vaccines for children aged from six months to under five years of age are being provided under the NSW Government's $2.6 million program.
The NSW Government has invested about $130 million in the 2018-19 Immunisation Program budget, including Commonwealth and state vaccines.
Hospitalisation rates for influenza are highest in young children with recent national figures showing about 100 per 100,000 in those aged six to 23 months.
In 2017, more than 650 people died across NSW. So far 75 influenza related deaths have been recorded this year.
Associate Professor Forssman encouraged residents to contact their GP or local pharmacist to talk about getting the flu shot.
A graduate of Western Sydney University, Nicola Barton is a news journalist with the Western Weekender, primarily covering crime and politics.