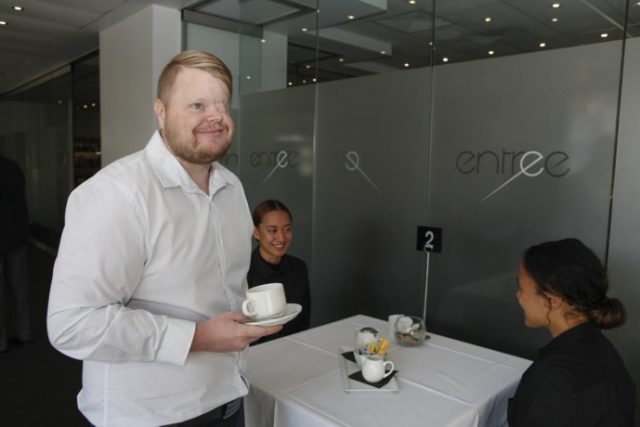 Penrith resident Craig Shanahan is proving you can follow your dreams regardless of your circumstances, as the legally blind 27-year-old sets out to open his own cafe and dessert bar.
Diagnosed with cancer at the age of two, Mr Shanahan tragically lost vision in one eye. But this didn't interfere with his love for cooking as he completed his studies in Commercial Cookery at TAFE NSW and worked as a qualified chef for a number of years.
Then, at 23, tragedy struck again when he suffered a life threatening brain tumor and lost the vision in his other eye.
Refusing to let this get in the way of his goals, Mr Shanahan, with his guide dog Rocko by his side, just completed his Advanced Diploma in Hospitality Management at TAFE Nepean, registered the name 'The Blind Chef Café and Dessert Bar' and is well on his way to securing a spot for his business in Penrith.
"I'd been living in Queensland for only six weeks when doctors discovered the life threatening brain tumor. After spending four weeks in hospital and months recovering, I moved back to Sydney to be with family," he said.
"I still had the dream of opening up a café, so once I was able to, I decided to go back to TAFE to study. I know how to cook but I needed to learn the front of house and how to manage and run my own business."
Before commencing further study at TAFE Nepean, Craig completed a phone and a touch-typing course with Vision Australia, which allowed him to learn how to navigate a computer and smartphone through voice commands and touch.
Returning to TAFE was daunting as he was uncertain about how he could navigate around the facilities but said his peers and staff made it an easy transition.
The Blind Chef Café & Dessert Bar is set to be an exciting addition to Penrith, offering fine dining restaurant style desserts in a relaxed setting.
Mr Shanahan said he is working hard to make his dream business become a reality and pays credit to his time at TAFE for giving him the confidence to do so.
A graduate of Western Sydney University, Nicola Barton is a news journalist with the Western Weekender, primarily covering crime and politics.