A man who brandished a machete, spat on a woman and threatened her baby in a shocking road rage attack in Kingswood has abandoned his appeal after the judge warned he'd increase his sentence.
The 29-year-old was jailed for 13 months with an eight-month non-parole period on March 19 after pleading guilty to the February 28 offence.
The father-of-four withdrew his severity appeal last Friday after Judge Sean Grant issued a scathing assessment, describing his behaviour as "inexcusable" and indicating he would increase his sentence if he were to proceed.
The frightening incident was sparked when the woman and her partner – who together with their baby daughter were waiting at a bus stop – critiqued the man's driving, giggling and exclaiming "what an idiot" when the man nearly collided with another vehicle as he attempted to get back onto Jamison Road.
When confronted by the driver, the man apologised for laughing, but the offender wasn't appeased, replying menacingly: "yeah you will be sorry, I will cave your head in and your missus and the baby, too".
A short time later the man's female passenger entered the fray and a fight between the women ensued.
This prompted the man to go back to his vehicle, grab a 40cm machete, which he began waving in the air while yelling "let go of my partner or I'll dice you to pieces".
When the victim attempted to retreat, the man followed, using a rolled up catalogue to strike her before spitting in her face.
He finally got back into his car and drove away when a male motorist intervened.
But he didn't get far, with police stopping him and his passenger along Castlereagh Road following a tip off from a witness.
He is eligible for release on parole on November 18.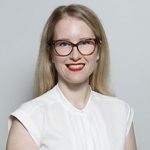 Alena Higgins is the Weekender's Senior News Reporter, primarily covering courts and Council issues.