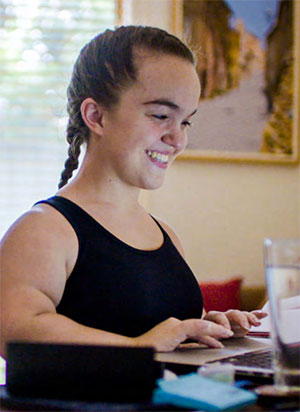 Emu Plains resident Sarah will make her debut on ABC TV's 'Employable Me' on Tuesday night.
As well as neurological conditions such as autism spectrum disorder and Tourette Syndrome, this second series of the popular program features people with epilepsy, cerebral palsy, dwarfism and Down Syndrome as they search for meaningful employment.
'Employable Me' shows us what potential employers need to see: the capable person behind the condition. But it's a tough road they have to travel to convince employers to overcome their preconceptions.
Press material from the ABC in relation to Emu Plains resident Sarah reads: "Sarah has Achondroplasia, resulting in dwarfism. At 18 years of age she is excited about taking her very first steps into the world of employment. Sarah has an affinity with animals and trains guide dog puppies. She hopes to get work in vet nursing if she can overcome her fear of surgery. Sarah doesn't see her height as an obstacle but knows people judge. With support of mum Deborah, who also has short stature, Sarah sets out to find a career she can succeed at."
Employable Me airs on Tuesdays at 8.45pm on ABC.