A 26-year-old woman busted making counterfeit money out of a Cranebrook home will be officially sentenced later this year.
Codie Louise Porter must remain in residential rehabilitation as a direct alternative to full-time jail after Magistrate Peter Thompson determined to take the "particularly unusual course", especially in the Local Court, of placing her on a Section 11 remand.
The 26-year-old was formally convicted of possessing counterfeit money, a counterfeiting machine and goods suspected of being stolen when she faced Penrith Local Court for sentence last Thursday, March 14.
Agreed facts tendered in court reveal Porter was caught red-handed when police stormed a Kington Place address about 2pm on September 1, 2018 with firearms drawn.
She was found sitting on a bed inspecting an Australian $50 note through a magnified light.
Inside the room, police located a number of counterfeit $50 notes in different stages of the counterfeit process, plus two ink printers and a number of credit cards in different people's names.
Her lawyer told the court Porter had relapsed back into 'ice' use prior to the offending and had indicated to police that her partner was the "brains" behind the operation.
Magistrate Thompson marked himself part-heard and adjourned the matter for the offender to demonstrate rehabilitation has taken place.
"I'm of the view that if I dealt with this matter today, there would be no alternative to full time jail," he said, noting she was on a community-based jail sentence at the time.
"You need to give it everything you've got."
Her matter is due to be re-mentioned again on August 9.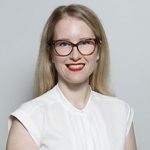 Alena Higgins is the Weekender's Senior News Reporter, primarily covering courts and Council issues.