While the State Election race is well underway, this morning marked its own starting gun as candidates across all electorates discovered their crucial ballot paper positions.
10 candidates are set to battle it out for the seat of Penrith with five in Londonderry and four in Mulgoa.
Labor candidate for Penrith, Karen McKeown was first to be drawn, putting her in the sought after top of the list spot.
"Number one, I suppose what it does do is give you a psychological lift, I don't know if that really translates into votes on the day but it is always the sought after spot, I'm really pleased," Ms McKeown said.
Today marking her 500th day into her campaign, Ms McKeown said she is excited for the upcoming election, which will see her face off with long-standing Liberal Penrith MP, Stuart Ayres.
"It's a big win for democracy at a time when a lot of people are disengaging in politics, I think having so many candidates just goes to show what a jewel Penrith is," she said.
"I wouldn't say I'm feeling confident but I certainly know the hard work I've been putting in, listening to what people have been telling me and I've committed to representing those people and their interests."
Mr Ayres, who was drawn fourth, said he wasn't fussed on his position as people know where they are voting.
"I take this job very seriously, my representation of this community is very important to me and I think it's important to the community that they have someone who works very hard for them," he said.
"My point to people this election is to think about who you trust to manage the NSW economy and who you trust to deliver for Penrith, our record there is very strong."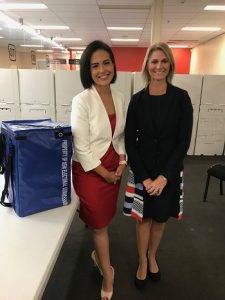 Over in Londonderry, Liberal Candidate Belinda Hill said she was ecstatic to be drawn first.
"I'm focussed on listening to the community and continuing to campaign and tell people about our positive plans," she said.
"I hope that people will vote for the Liberal candidate because only a re-elected Liberal Government will continue to take pressure of families by ensuring we maintain our strong economic position."
Greens candidate Rob Shield was drawn first for Mulgoa with Sustainable Australia's Jessie Bijok second followed by Labor candidate Todd Carney and standing Liberal Mulgoa MP Tanya Davies.
The State Election will be held on Saturday, March 23.
Ballot paper order:
Penrith:
Karen McKeown – Labor
Mark Tyndall – Independent
Kaj Mcbeth – Animal Justice Party
Stuart Ayres – Liberal
Carl Halley – Pauline Hanson's One Nation
David Burton – Christian Democratic Party (Fred Nile Group)
Marcus Cornish – Independent
Rod Franich – Shooters, Fishers and Farmers
Geoff Brown – Sustainable Australia
Nicholas Best – The Greens
Londonderry:
Belinda Hill – Liberal
David Bowen – Sustainable Australia
Prue Car – Labor
Charlie Pierce – The Greens
Don Modarelli – Christian Democratic Party (Fred Nile Group)
Mulgoa:
Rob Shield – The Greens
Jessie Bijok – Sustainable Australia
Todd Carney – Labor
Tanya Davies – Liberal
A graduate of Western Sydney University, Nicola Barton is a news journalist with the Western Weekender, primarily covering crime and politics.