Crossing a busy intersection can be challenging at the best of times, but it can be down right dangerous if you're blind and hearing impaired.
This is the situation Betty Murray finds herself in time and time again while trying to cross the intersection at the corner of Chapel and Crana streets, St Marys.
Despite a petition to fix the crossing garnering almost 1,000 signatures, Penrith City Council has knocked back a request for a zebra crossing or the implementation of measures to increase driver awareness at the intersection, saying "the RMS criteria was not met to warrant any changes".
Currently, the crossing on Chapel Street is a speed hump with no stripes or signage.
Council's response back to Councillor Robin Cook, who first raised the issue in October last year, was that it considered the "40km per hour speed limit, the contrasting pavement on Chapel Street, the narrowed road way on Crana Street and the pedestrian refuge medium on King Street provided adequate driver awareness and pedestrian safety".
But Cr Cook disagrees with the findings and is keeping the pressure on.
"A lot of people are complaining about it still, and the problem remains," Cr Cook said.
"It shouldn't be up to Mrs Murray, we should be providing a safe pathway."
Mrs Murray called on Council to address the problem following a near death experience, with Cr Cook and Londonderry MP Prue Car helping lead the charge.
With St Marys experiencing a development boom and North St Marys housing an older demographic, Cr Cook said it was important Council be "proactive not reactive" in providing safe pathways for all abilities.
"If we disadvantage one person in the community then we are not doing our job," she said.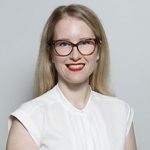 Alena Higgins is the Weekender's Senior News Reporter, primarily covering courts and Council issues.