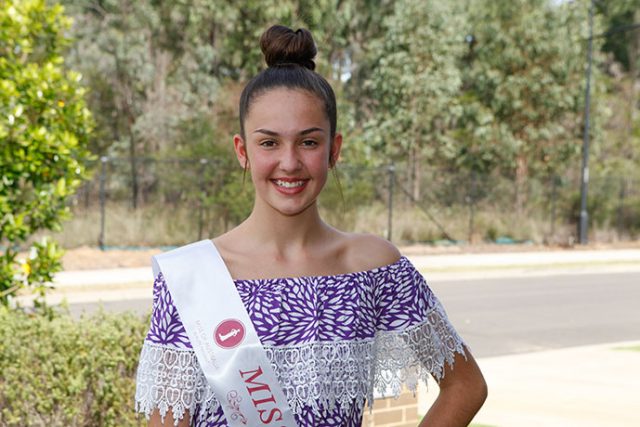 14-year-old Chloe Zrebiec is proving you can have beauty and brains as she prepares to hit the catwalk as a finalist at the 2019 Miss of Australia pageant.
The Dunheved Chifley College student has been dux of her grade for two consecutive years and when she isn't studying, she's dancing, acting and performing with local dance school Reign Elite.
At five-foot seven inches tall, Chloe has always had people making remarks that she should pursue a career in modelling. But it wasn't until her mother and herself made a Star Now profile online that they sought to apply for the pageant.
"A few weeks before Christmas we had to fill out an entry form, we just did it for a bit of fun. I thought it was a good opportunity and then on Christmas Day I got the letter to say I was a finalist," Chloe said.
"I was so happy, to get a chance like this, it's a once in a lifetime. I'm excited to meet new people and try something new, it's really going to be an amazing opportunity."
This October, Chloe and her mother Keri Murphy will fly to Melbourne to compete in the pageant. She will be given one question to answer about women empowerment and will model Australia wear, sports gear and a ball gown. She is also encouraged to complete charity work prior to the event.
Ms Murphy said the family is extremely proud of Chloe's achievements and want to give her as many opportunities as possible.
"We want to encourage her the best we can, a lot of people don't believe how young she is, we are so proud of her to do so well in her academic studies as well as out of school stuff because it's a big thing for a 14-year-old," she said.
"Getting to go to Melbourne would mean the world to us, having her become a finalist means she's already won to us, but to get her down there to compete in front of the judges and walking the catwalk will give her the confidence and experience to get out there."
Chloe dreams of one day becoming a professional dancer or model.
The family is raising sponsorship money to help fund the trip to Melbourne later this year.
To help the family get to Melbourne, contact Keri at [email protected] for sponsorship details.
A graduate of Western Sydney University, Nicola Barton is a news journalist with the Western Weekender, primarily covering crime and politics.