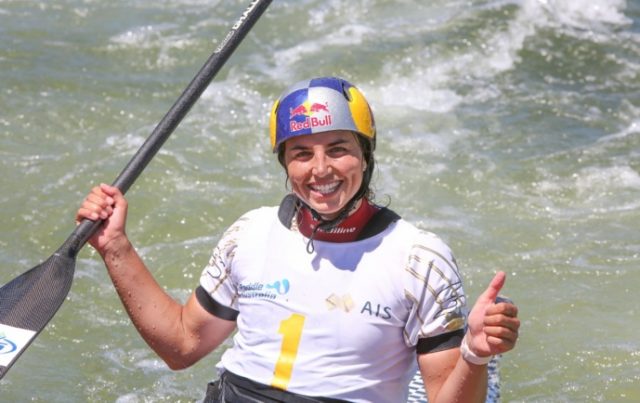 Australia's Canoe Slalom paddlers kicked-off the 2019 Olympic qualification season in style winning one gold, two silver and one bronze medal at the 2019 Sydney International Whitewater Festival in Penrith over the weekend.
Dual Olympic medallist and 2018 double World Champion Jessica Fox took home the win in the women's C1 on Sunday, continuing her unbeaten run in the boat class she won five World Cups, the overall World Cup as well as World Championships gold in last year. This weekend she also won a silver medal in the women's K1 on Saturday.
Rio 2016 Olympian and 2018 World Championships silver medallist Lucien Delfour (NSW) added another silver medal to the Australian medal tally of four when he finished second in Sunday's men's K1 final which was won by Great Britain's Rio 2016 Olympic champion Joe Clark.
The 2019 Canoe Slalom Australian Open as part of the 2019 Sydney International Whitewater Festival, was a successful return to international competition for Fox following her historic season last year when she wrote canoeing history and became the most successful individual canoe slalom paddler of all time.
Fox wrapped up a full weekend of racing against the world's best paddlers at Penrith Whitewater Stadium winning the women's C1 in a 103.52 clean run and +0.33 ahead of Brasil's Olympian and 2018 Extreme K1 World Champion Ana Satila. Sister Noemie Fox also finished on the podium and only +1.21 seconds behind (104.73).
Tasmanian Kate Eckhardt finished fifth after a second place in the morning's semi-final, while Rosalyn Lawrence (NSW) just missed out of the top-ten final after a 17th place in the semi.
"This the first event of the season for me and to take a win was really cool. It was a fast race, I saw the times before starting so I knew I had to lift my game a little bit. I had a penalty on that main wave, so I really had to make sure the rest was perfect. I think I just got in front of Ana, so I am really pleased with that run and Noemie and Kate raced really well in the final too," Fox said after the race.
"It's a great little squad that we've got, our girl gang. I think I'm really proud of them, they've been training really hard and they've raced really well. It's never easy to race selection and to deliver it when you have to, so to see them lifting it and making the final with some good runs and that's really good to see."
Fox will line-up again at the start line next weekend for the Oceania Championships and is hoping for a big crowd to come and cheer on the Australians as they again take on the best of the world on their home course once again.
"This is a really awesome place to come and bring the family and see the best in the world. There are 300 athletes here from over 30 countries, so it's world cup standard. It's actually bigger than a world cup and you don't get that every day in Penrith, so we are pretty lucky to have it and I think it'll be some really good action next weekend and we would love the support for the Aussies," she said.
Noemie Fox also took out second place in the women's C1 U23-category, with Kate Eckhard in third.
In the men's K1 Great Britain's 2016 Olympic champion Joe Clarke won both the semi-final and the final (87.50) with Australia's Lucien Delfour in close second and +0.06 seconds behind. Germany's Sebastian Schubert took home the bronze medal (88.63).
"It was an amazing semi-final, I ran the boat really well and then had all the work to do because people expected me to get on it in the final. So I'm really happy to perform again in the final, not quite at a blistering pace and I fell off the wave near gate 15 which proved quite costly, but managed to take the win so I'm very, very happy," Clarke said.
"It's only February, but it's great to see where you are at this early in the season. Obviously, the season hasn't really officially started, it will be around May for us Europeans, but it's always nice to get on the start line and give what you've got."
Despite not posting the fastest time, the first hit-out of the season against a stellar international line-up felt good for Australian local Lucien Delfour, who also had to keep selections in mind with the 2019 Sydney International Whitewater Festival to decide the 2019 Australian Canoe Slalom Team over the two weekends of racing.
"The number of international competitors this year has been insane with over 300 and a lot of these paddlers are top. This is like a World Cup or close to World Champs, just quite early in the year and it's almost a bit intimidating to see so many big names on the start line," Delfour said about the event.
And analysing his run he added, "I made a few little mistakes here and there, but I felt good, especially on the second half I felt really good. I was tight on the gates and riding on line, so I did what I wanted to do. I crossed the line and thought I would be around 85 seconds, but it was 87 and I was a bit disappointed so there have to be two seconds somewhere."
"I have two firsts of the Aussies that count towards selections now so that's a big plus and now I can try to be a little bit more aggressive at the Oceania Championships next weekend, especially in the heats. Whereas a couple days ago I had to be a bit more conservative because there's only one (selection) run and it's not something you want to miss. So hopefully next weekend I will be feeling a bit more relaxed."
Tasmanian paddler Dan Watkins was the second Australian in the world-class final and impressed with a clean run (88.76) and a fourth place +1.26 behind.
"It was really good and it was a hell of a field. Joe Clarke set the bar really high in the semi-final and everyone was pushing really hard to push three, four seconds to catch him. I could hear that Lucien had done a really good time and I just went out as hard as I could and ran a little bit out of steam at the bottom, but I'm still really happy with how I paddled today," Watkins said.
"This is pretty good for me for selection. It definitely means I've already made percentages in the semi-final and I've got a second place of the Australians today and a good high seat which should carry me through next weekend pretty well," Watkins added with selections in mind.
The 2019 Canoe Slalom Australia Open is part of the 2019 Sydney International Whitewater Festival at Penrith Whitewater Stadium with the Oceania Championships following next weekend.
Saturday's results saw 2018 World Championships bronze medallist Ricarda Funk from Germany taking home the win in the women's K1, with Jessica Fox finishing second and Jasmin Schornberg (GER) in third. Rosalyn Lawrence (NSW) finished sixth.
Saturday's men's C1 was won by Britain's triple Olympic silver medallist David Florence ahead of France's World Championships medallist Martin Thomas and Italy's Raffaello Ivaldi. 2016 Olympic Champion Denis Gargaud Chanut (FRA) finished sixth with Australian C1 paddlers Ian Borrows (NSW) and Dan Watkins (TAS) missing out of the top-ten final in 11th and 21st respectively.
Sunday also saw the Australian Open Freestyle Championships held at Penrith Whitewater stadium with American Sage Donnelly winning the women's K1 and Victorian Jack Newland the men's K1.