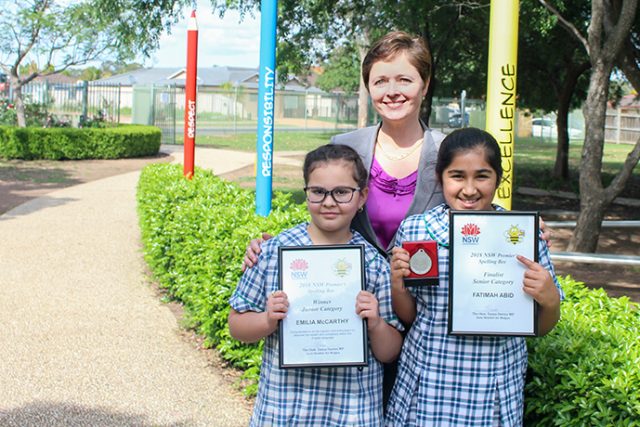 Etymology, irredeemable, and enthusiasm were just a few of the words Emilia McCarthy, aged nine, successfully spelled at the 2018 NSW Premier's Spelling Bee, securing her win in the junior division.
The Year 4 student from Glenmore Park Public School was among 100 junior and senior finalists from across the state that went letter-to-letter at the Premier's Spelling Bee earlier this month.
Over 170,000 Year 3 to 6 students from almost 1,000 public schools participated. Year 5 student Fatimah Abid also represented the school in the senior division and placed in the top 10.
State Member for Mulgoa Tanya Davies visited Glenmore Park Public School to congratulate Emilia and Fatimah on their success.
"This is a marvellous achievement for both Emilia and Fatimah. To be among the best spellers of the state requires hard work and a passion for learning," Mrs Davies said.
"I congratulate Emilia on this extraordinary achievement of being crowned the best junior speller in NSW."
Principal of Glenmore Park Public School, Natalie Mansour, expressed her elation over the success of the Glenmore Park Public School students at the Spelling Bee.
"We are all so proud of Emilia. Making it to the finals is fantastic, but winning… is out of this world!" she said.
Glenmore Park Public School was one of only nine schools in the state to have finalists in both the senior and junior competition.
"When I won, I can't even explain the feeling, I couldn't comprehend it and there's not a word that could describe how happy I was," Emilia said.
"My aunt, grandmother, mum, dad and sister all came to see me, they are all really proud of me."
The Premier's Spelling Bee was introduced as a fun and educational way for primary school students to engage in spelling. Each year the Bee has grown in popularity, with an additional 20,000 students taking part this year.
Now in its 15th year, the 2018 Premier's Spelling Bee has seen a record participation of 170,000 students from almost 1,000 public schools across the state.
Both girls said they wish to participate again in the future.
A graduate of Western Sydney University, Nicola Barton is a news journalist with the Western Weekender, primarily covering crime and politics.