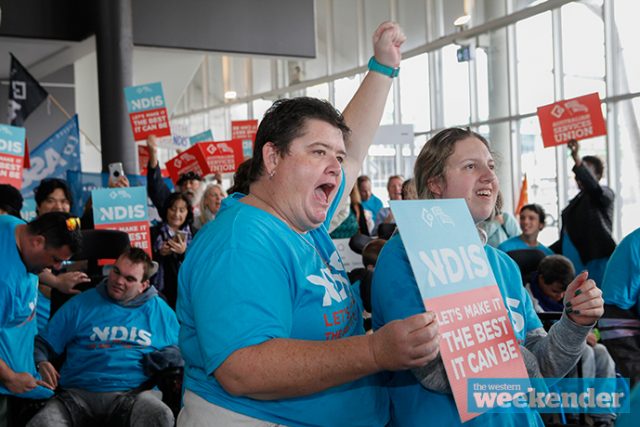 Fed up disability workers are calling on the Federal Government to properly invest in training and development.
Over 200 people gathered at The Joan in Penrith this morning, to rally for a better National Disability Insurance Scheme (NDIS).
Secretary of the Australian Services Union (ASU) Natalie Lang, who hosted the event, said the lack of investment in the workforce is "appalling".
"You would never send your child to school to be taught by an unqualified teacher, and you would never allow a family member to go to hospital and be cared for by an unqualified doctor, so why should people with disabilities expect anything less from the vital services that they need?" she said.
"As long as we treat the workforce as a minority group, we won't have the services there available for participants to be able to choose from to meet their individual needs and aspirations."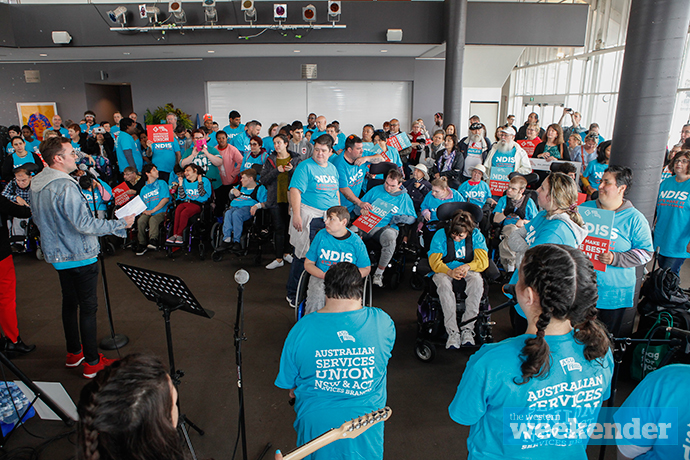 The ASU believe that a portable training program, that is nationally consistent and accredited, is vital for the future of the industry.
Currently there are no minimum qualifications in the disability sector.
"The workforce has grown rapidly in the community with the roll-out of the NDIS but it needs to double within the next three years in order to fully implement the scheme," Ms Lang said.
Once fully rolled out, the NDIS will support over 47,000 participants in western Sydney and will account for over 19,500 local jobs.
"Our job in implementing the NDIS is only as good as our staff, so we really need a skilled workforce and to do that we need quality training and supervision," Flintwood Disability Service CEO, Jackie Romein said
"The whole industry needs to come together, having training that is portable will be an investment in the whole industry, therefore you're building the whole capacity of the workforce."
Next week Ms Lang will join local disability support worker, John Semark and 15 other delegates from across the country to share their story in Parliament, in the hope to make changes to the system.
A graduate of Western Sydney University, Nicola Barton is a news journalist with the Western Weekender, primarily covering crime and politics.