Since 1988, audiences have been captivated by the classic feel-good flick 'Big' starring Tom Hanks, and now Penrith Musical Comedy Company has put together a modern, music charged take on the film.
'Big The Musical' follows the adventures of an awkward young teen who makes a wish that turns into reality.
The show's director James Rye said it was a production that would appeal to audiences of all ages.
"The show is about a young boy who is not feeling confident in himself, and is quite shy and reserved, who makes a wish on a Zoltar machine to be big then wakes up in the body of an adult," he said.
"He has to make adjustments to his life now that he's an adult but he still has the mindframe of a child so he sees everything with innocent eyes.
"All of his interactions are quite cute and fun. It's a great show that's got lots of songs in it, and lots of colour."
In true community theatre fashion the cast is filled with actors of all ages from veteran performers to first timers.
Penrith Musical Comedy Company newbie, Ben Roorda, is leading the strong ensemble of quality actors, taking on the role of adult Josh, but the focus is also on his co-stars who each bring a personal touch to the already well-known characters.
"There's a whole score and songs to help tell the story in a different way," Rye said.
"Other than the music and the big dancing numbers; it also tends to focus a bit more on the other people around Josh, not just Josh himself.
"The movie tends to focus just on his experiences, whereas now you will get to see how the people around him are affected by his presence when he becomes a grown up."
With an 18 piece orchestra, the musical's score is sprawling and energetic, perfect for keeping both children and adults entertained.
"The score has a lot of fun music, and a corny rap," Rye said.
"There are a couple of ballads as well so a few love songs, but for the most part it's comedic."
One thing audiences can be sure of is having a great time, and they'll almost certainly be singing along by the time the show is over.
"It's a big extravaganza, and it's a lot of fun," Rye said.
"There are lots of kids involved. It's a good family night out at the theatre."
'Big The Musical' opens tonight (Friday, October 19) at The Joan in Penrith and runs until October 27. Tickets start at $35. To book or for more information, call 4723 7600 or visit thejoan.com.au/whats-on/big-the-musical.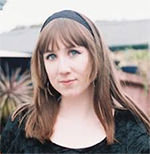 Chloe Kay Richardson is The Western Weekender's entertainment reporter. She has worked extensively at various publications across Australia.