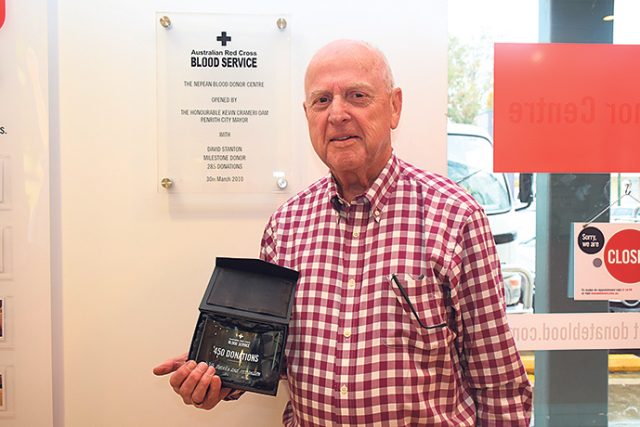 For Penrith resident David Stanton, donating blood has been a part of his fortnightly routine for as long as he can remember.
454 donations later, the 73-year-old has saved 1,362 lives and is now being acknowledged by the Nepean Donor Centre for his fantastic efforts.
Starting in the early 1960s Mr Stanton began donating full blood donations four times a year. For the last 15 years he donates plasma every fortnight, making him a familiar face for all staff at the Penrith centre.
"I don't think about it much, it's just a number, a great number but I don't feel heroic or anything, it's just something I got used to and wanted to keep doing," Mr Stanton said.
"It's a privilege, it's nice to know that many souls would have benefited from not just my donation but others as well."
On Wednesday, the Nepean Donor Centre presented a trophy to Mr Stanton to honour his 450th donation.
As Mr Stanton can no longer give blood due to health reasons, the centre wanted to acknowledge the humble hero with a celebratory morning tea.
Mr Stanton said he hopes his milestone can inspire others to donate more.
"It's just my way of giving back to society and helping people," he said.
"We've had ceremonies in the past where recipients talk about how its affected their lives and it's very heartwarming and sometimes brings a tear to your eye."
Staff members from the Nepean Donor Centre said Mr Stanton is one of the most regular donors and had the highest milestone upon opening the new centre in 2010.
Mr Stanton said he is happy to have done his bit and encourages others to do the same.
To book an appointment, call 13 14 95.
A graduate of Western Sydney University, Nicola Barton is a news journalist with the Western Weekender, primarily covering crime and politics.