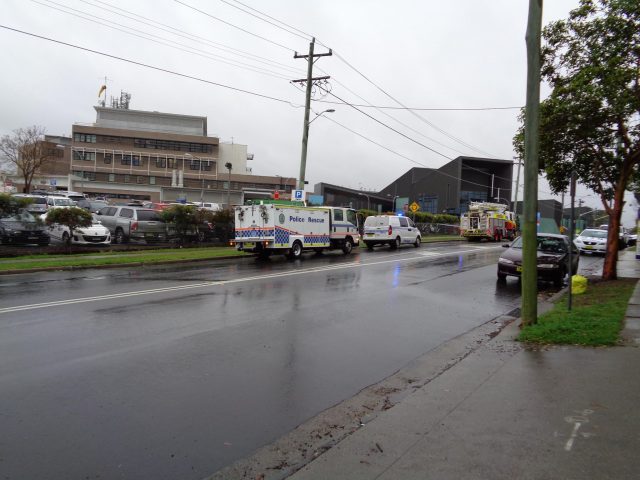 Streets around Nepean Hospital have re-opened but the Emergency Room remains closed following a shooting and bomb scare this afternoon.
Just before 4pm today, police from Nepean Police Area Command responded to reports of a man, armed with two knives, who was allegedly threatening security officers at the hospital on Derby Street, Kingswood.
The 54-year-old man allegedly attempted to stab an officer and was shot by responding police.
He was treated at the hospital where he remains in a stable condition.
The hospital was placed into lockdown, while the Emergency Room was closed and ambulances and patients were diverted to other hospitals.
The bomb squad was called in but at this stage police have not confirmed the exact nature of the threat they were dealing with or if the situation surrounding that threat is over.
Streets surrounding Nepean Hospital were closed for some time, but by 8.30pm most had been re-opened. The Emergency Room remains closed with a heavy police presence still on site.
Patricia Metuangaro was at Nepean Hospital at the time of the shooting and said there was mass confusion.
"No one knows what's going on. I walked out of my appointment and Police were everywhere shouting for everyone to get downstairs," she told the Weekender.
"We then got ushered into a room and have been locked in here. Everyone's panicking."
A hospital employee, who didn't wish to be named, was leaving work to go home when she was caught in the chaos.
"I just saw all the police screaming, and I was like 'what's going on?'" she told Fairfax Media.
"The police officer came running up and was like 'run, you've got to get away from this area'.
"I still hadn't moved from the front entrance, I couldn't get to my car and didn't know where to go and he [a police officer] said 'just run we've shot someone and there's a bomb'."
Visitors were not being let into the hospital to see patients, with Nepean Blue Mountains Health thanking people for their patience.
"Patients, staff and visitor safety is our top priority," the hospital said in a statement.
"Staff are able to exit the facility using the north block exit. If your car is in ED carpark you may have to wait.
"Staff starting their shift need to enter via north block entrance."
The Nepean Hospital Birth Unit is open. Women in labour who are due to give birth at Nepean Hospital are asked to go to the East Block entrance, off Somerset Street where a staff member will guide them to the birth suite.
Nepean Hospital General Manager Brett Williams praised staff for the way they handled this afternoon's emergency.
"Staff performed tremendously and so I really must thank them for all their hard work," he said.
"It's not normal to have this sort of situation, but we followed our usual protocols in relation to a disaster and performed tremendously."
A critical incident investigation has been launched following the shooting.